Everybody drinks water but if you know the best time to drink water then you will see the miracles happen in your life. Today sharing 10 mind-blowing health benefits of drinking hot water that will change your life.
Best Practices and Experience
Before going into the details, I'd like to share my personal experience that how hot water helped me to maintained weight, detoxify the body, hair growth, clear skin, fasten metabolism and last but not the least kept me active and productive to work 16 hours in a day. My best practices with drinking hot water compel me to write and share with my audience.
Before 10 years, I never thought to make myself addict with hot water. But One day, I just read an article in the newspaper about hot water benefits so tried to do that as it doesn't seem harmful. So I decided to go with that with commitment. Initially, it was difficult for me to have water in the morning but when I kept in routine my body accepted water and become used to...
How To Make Hot Water
There is no specific recipe for making hot water just take drinking water and boil it. When we say, to drink hot water it means it should be warm. Try to avoid steamy hot water.
Best Time To Drink Hot Water
In the morning before breakfast is the best time to have hot water. Take it before 45 minutes of your breakfast. After that, you can take it before taking meals. Never drink right after eating. You may have the middle of eating but it's not recommended.
Best Time:
Morning (Before Breakfast) [Keep duration of 45 minutes]
Before Meals [Keep duration of 15 minutes]
Bad Time:
Avoid water after taking meals.
How Much Water Need to Drink
It depends upon your surrounding. If you are living in humid places then take the maximum of 10 glasses of water. At cold places, you may have a litre in a day.
If you are not used to of drinking hot water then just take in the morning or before meals.
Is there Any Disadvantage to Drink Hot Water?
There is no significant disadvantage of drinking hot water. Hot means warm water that is acceptable to your body. Try to avoid steamy hot water. If you have any issues then take water on room temperature.
Hot Water Vs. Cold Water
Hot water is good to improve blood circulation.
Helps to gid rid with body pain and cramps.
Hydrate body and improve internal lubrication.
Cold water lowers body temperature.
Cold water rejuvenates under extremely hot conditions.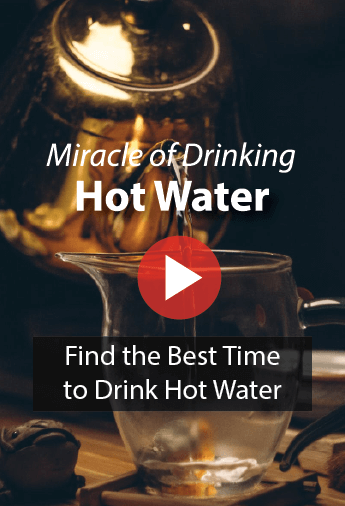 10 Health Benefits of Drinking Hot Water
As it's famous Chinese people always have a hot water bottle with them to drink because it's healthy. Check out Chinese people lifestyle and productivity rate and you will be amazed with the results. They are agile, healthy, live longer and have slim body texture. Actually, there is science behind it like how hot water behaves with our body and do the silent treatment of ongoing body issues and problems.
Let's delve into it!
1) Improve Digestive Issues
Are you dealing with digestive issues then just try drinking hot water in the morning before breakfast. It will help to solve your digestive issues keeps you away from constipation and lubricate your body to digest food. To digest the food, our intestine and stomach need a lubricating agent to process the food and water works to lubricate the organs. It also minimizes chest congestion, stomach burning and other related issues.
2) Detoxify Body
To keep the body healthy it always recommended flushing toxins that cause internal problems. Drinking hot water can help you to get rid of these toxins in a healthy way. If you have pimples, bad breath, smelly perspiration then try this and you will feel the difference. It also helps to melt down stubborn fat from the body.
2) Manage Body Temperaments
If you have temperamental issues like angriness, anxiety, depression or other related issues then just drink a glass of hot water, take a 30 minutes brisk walk and shower. You will find an immediate result. It will relax your nervous system and keep you stress-free. In fact, you will feel more agile and happy after doing this.
4) Maintained Weight - Get Rid with Bloating
I am personally endorsed this as I maintained my weight just by drinking hot water. It improves metabolism, melts down fat, increases blood circulation and burns calories. More recommended to lower down belly fat.
5) Get Rid with Depression and Stress-Related Issue
As I mentioned above it helps to get rid of depression. Almost 80% people are observing depression of multiple levels so try to drink hot water to get rid of your problem. It relaxes nerves that help to reduce stress level and also increase immunity to deal with issues.
6) Improve Productivity
As I mentioned earlier, I work 16 hours a day. So hot water help me to improve my daily productivity. If I skip a day, I can feel the difference. In the morning, if you are feeling lazy or tired then try this simple hot water cup and you will feel the difference. It improves alertness and agility to perform work. So if you are on workplace and lethargic then try this.
7) Keeps Happy and Motivated
Many people meet us to inspire as we like their motivation, positivity and happy ways to live life. If you want to be like that then try to drink hot water cup and you will surely feel the difference. Think, if your body is feeling light, you are not tired, positive and happy then you are the blessed person on earth. If you have this feeling when you can make a difference in any field where you work or belongs to.
8) Keeps Hydrated
Internal and external hydration is important to make a healthy lifestyle. Water will keep you hydrated. If a human body doesn't take the required amount of water then small intestine absorbs sufficient water from food and fluids in the body that causes dehydration due to that indigestion occurs.  Hot water helps in digestion by breaking food particles in the body.
9) Help with Nasal Issues
If you are dealing with nasal issues or living extra cold conditions then try to take hot water cup. Take the steam and drink it and you will feel the difference to alleviate allergy. It kills the bacteria of sinus and unclogs the frizziness. It also helps to get rid of mucus.
10) Minimize Skin Related Issues
Have so many issues with skin then just take this hot water cup. If possible to add some mint Patel and boil it. Have it!! Try to do for 1 week and you will feel the difference.
There are so many other benefits of having hot water. So try to incorporate in your diet. If you are dealing with any disease and extreme level problem then consult with your doctor on priority.