Jump to Recipe
Making quick and easy baked Tandoori Chicken in Oven. If you are craving chicken tandoori then this recipe is for you. Easy dinner idea for foodies to try at home!
What a great idea to make chicken marinated with yogurt and masala and then baked in oven to give tandoori flavor. The absolutely juicy, tender, and delicious chicken will be ready in no time. If you are looking at how to make tandoori chicken at home then look at the step-by-step video recipe to follow the quick steps.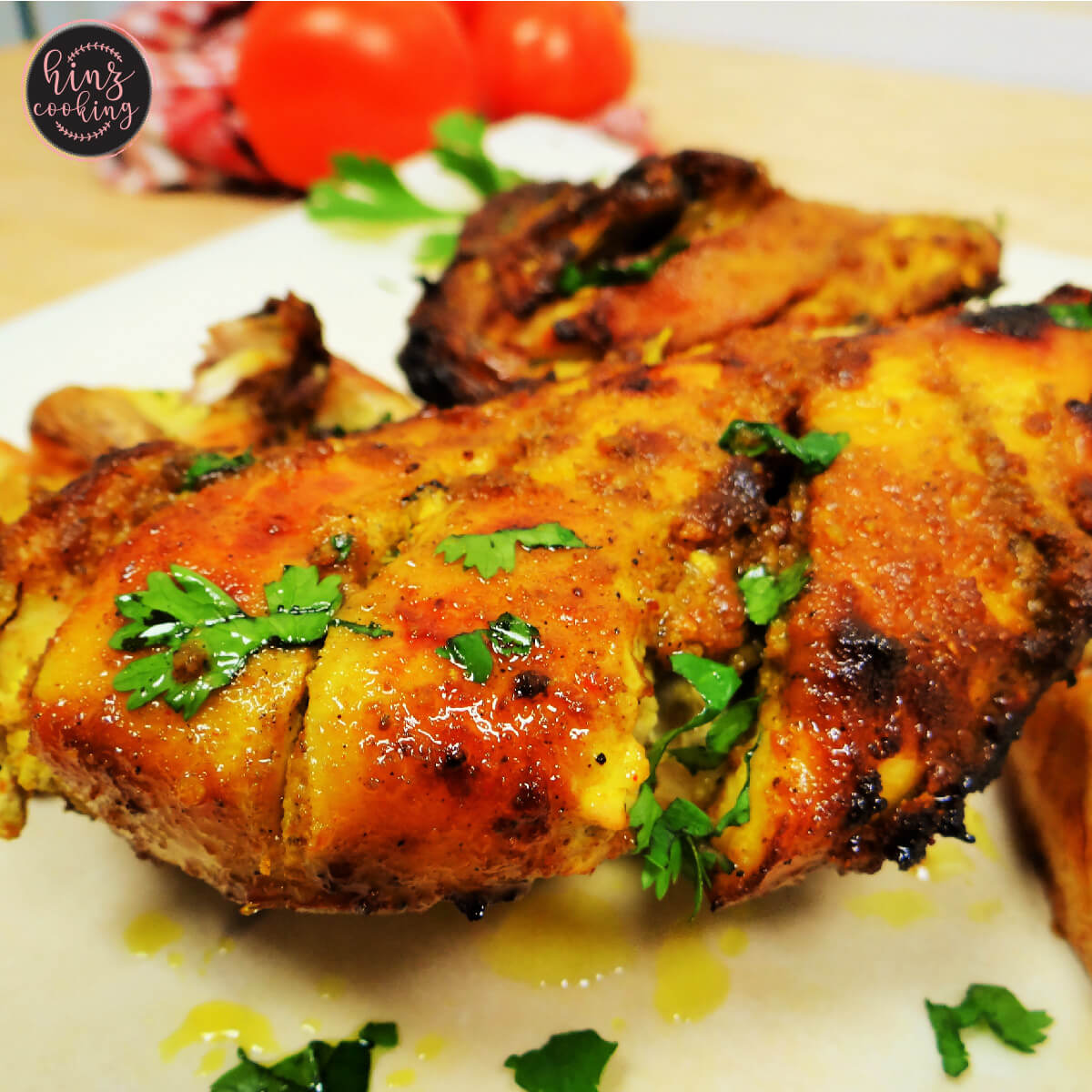 To be very honest the baking aroma of chicken will make you hasty to have this chicken. Once you make then you will surely make it again.
Tandoori Chicken Recipe
In Pakistani and Indian recipes, tandoori chicken has a special position on the table and people loved to serve on special occasions like family get-together and parties and one of the hottest menu item in the Pakistani Wedding dish.
SEE ALSO: Chicken Tikka | Chicken Tikka Masala | Chicken Tikka Biryani
Tandoori Chicken in Oven Recipe Video
It's a mouthwatering experience to make tandoori chicken in oven. Here is step by step video recipe to follow the quick directions.
Main Ingredients
Chicken: To make tandoori chicken, it's recommended to take chicken with tandoori cuts and mark them properly. I personally prefer to take chicken without skin as it makes the best taste after baking in the oven.
Yogurt: The main taste of tandoori chicken comes up with yogurt. Recommended taking thick yogurt or nonwatery.
Salt and Peppers: Add salt, black pepper, and red peppers according to your taste.
Spices: It's essential to add turmeric, coriander powder, cumin powder, and Garam masala.
Roasted Gram Flour (besan): Must add gram flour in this marination and if you don't have then skip it. Roasted gram flour creates a nutty flavor in roasted chicken.
Ginger Garlic Paste: It will add flavor to spices and the most important ingredient of tandoori chicken.
Oil: Added oil for lubrication. In this way, the chicken will be juicy and tender after baking in the oven.
How to Make It?
To make this delicious chicken, you only need few ingredients. First, you will take thick yogurt and then add Indian spices like red chili powder, coriander, turmeric, and most important the Garam masala powder that makes a perfect taste in chicken. Don't forget to add oil in marination as it will make the lubrication in chicken. Marinate the chicken for a minimum of 2 hours otherwise, you can marinate for overnight to get the best flavor of the chicken.
Then the baking part comes up, you only need to place the marinated chicken in a preheated oven on a greased tray and bake for about 40 minutes at 220 degrees.
To make the chicken more tempting, I have added onion rings and some veggies to bake with chicken.
Happy cooking and happy eating!!

Share this recipe with your family and friends. It would be great if you leave your feedback in the comment box. If you make this recipe at home then share a picture with the hashtag #hinzcooking
SEE ALSO: Steam Chicken Recipe | Creamy Garlic Chicken
6 Tips to Make Tender and Juicy Tandoori Chicken
Take the best cut of chicken so the marination can deeply absorb in chicken.
Make sure to use proper ingredients to prepare marination.
Don't make the marination runny or watery otherwise the chicken will realease water during baking.
Marination needs to stick to chicken pieces to give it the perfect flavor.
Temperature management is more important to make the best chicken.
Don't overcook the chicken otherwise, it will taste like rubber.
How to keep tandoori chicken moist?
To make the chicken moist, juicy and tender 'brining' is important. Brining is the cooking technique in which you cut the chicken and leave it in salty cold water for half an hour. After that, you can rinse with freshwater and move forward with your recipe.
How to keep tandoori chicken moist?
You can store with marination and after cooking. If you store before marination then store it in airtight container and refrigerate for 2 to 3 weeks. When you need it then take it back and defrost in microwave and cook it accordingly with you prefreed method.

If you are storing after cooking then place in airtight container and refrigerate for 5 to 6 days. When you need it take it back, microwave and eat. You can drizzle little oil and bake for 5 to 10 minutes in preheated oven. It will take like the freshly baked chicken.
Print
Tandoori Chicken in Oven
Making quick and easy tandoori chicken in oven. Here is step by step process to make chicken tandoori. Watch recipe video to get step by step directions.
Materials
Chicken - 2 tandoori pieces

Yogurt - 1 Cup

Salt - 1 Tsp

Black Pepper - 1 Tsp

Red Chili Powder - 1 Tsp

Turmeric Powder - 1 Tsp

Coriander Powder - 1 Tsp

Cumin Powder - 1 Tsp

Garam Masala Powder - 1 Tsp

Roasted Gram Flour

Besan - 1 Tsp

Garlic Paste - 1 Tsp

Ginger Paste - 1 Tsp

Oil - 1 Tbsp
Instructions
STEP 1:

Prepare Chicken:

Cut the chicken in Tandoori Pieces.

Mark Chicken with deep cuts.

Now wash and make it dry to release water.

STEP 2:

Marinate the Chicken:

In a bowl, add thick yogurt, salt, red chili, coriander, turmeric, cumin, garam masala, and roasted cumin.

Also, add ginger garlic paste.

Add oil and whisk all the ingredients to make a thick paste.

Now add chicken pieces and mix well with the masala to give it a good coat.

Now cover and Marinate the chicken for 4 to 6 hours. In my case, I gave it 2 hours for marination.

STEP 3

Set the Baking Platter

Drizzle some oil on the baking surface and brush it up.

Place the chicken in baking dish with some distance.

Bake in the oven at 220 degrees centigrade for 40 minutes.

Now the chicken is 'Tandoori Chicken' ready to serve.
Notes
Clearly mark the chicken so it can absorb the marination.
Tap to dry the chicken before marination.
Marinate for longer hours (4 to 6 hours recommended) can make the chicken more juicy and tender in flavor.
In baking dish, don't forget to layer with oil otherwise the chicken will stick.
Make sure to add oil or butter in marination so it will make the chicken more juicy and tender also it will not dry up right after baking.