A cooking conversion chart will help you to properly measure your cooking ingredients in the correct way. If you are a beginner then this post will step by step help you to make better sense of cooking with the proper ratio and size of ingredients to add to recipes.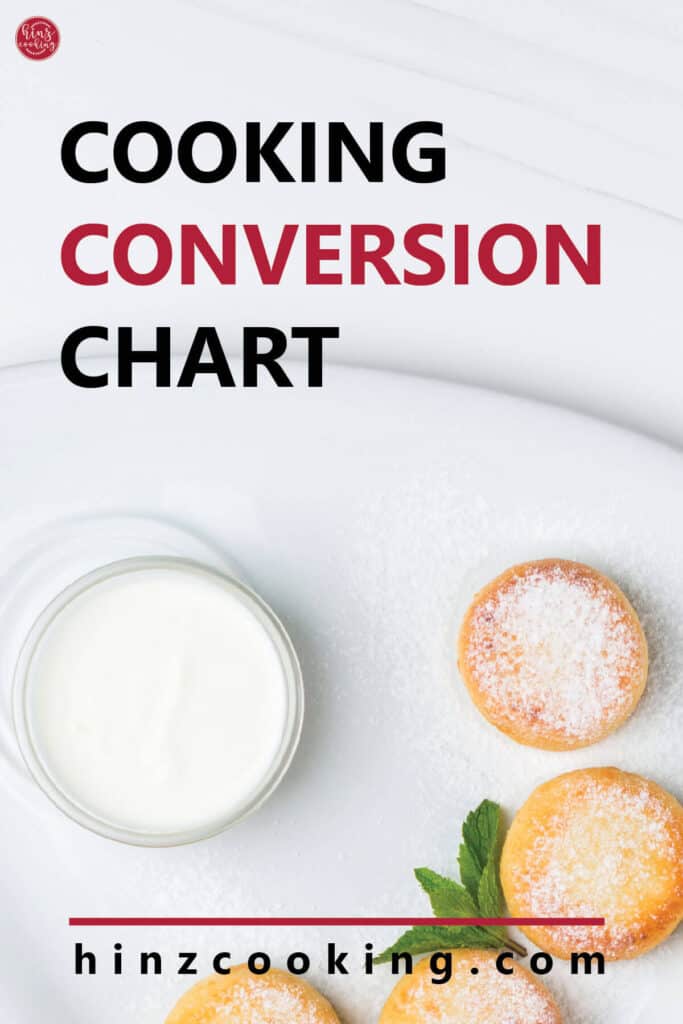 Jump to:
Cooking can be easy for beginners if you have a simple and easy cooking conversion chart and cooking measurement tools with you. Many recipes failed just because of inappropriate addition of cooking ingredients. So it's high time for beginners to understand the cooking conversions to prepare successful recipes.
In my previous post on cooking tips for beginners, I focused on the cooking conversion chart and cooking methods as both are important for beginners to cook like a boss in their own kitchen.
When I first started cooking, I was so confused about teaspoon and tablespoon, and ⅓ teaspoon and ¼ tablespoon were scary for me... So I can relate to you! Now after many years of experience working in the kitchen, I am able to guide you to take it easy and remember conversion with simple rules.
Don't be confused with imperial, metric, and US systems of measuring cooking ingredients. As I am going to brief all this in this post.
What is Cooking Conversion Chart?
A cooking conversion chart will guide you to convert the ingredients according to the US recommended size and proportion. Most international recipes follow the metric system while the US cooking measurement follows the imperial system. So here in this post, you will get an idea of this basic conversion.
Imperial System Vs. Metric System
In the United States, the standard conversion is based on an imperial system that includes, teaspoon, tablespoon, cup, oz, gallon, quart, and pounds.
In the metric system of conversion, we use the meter, liter, and gram as base units of length (distance), capacity (volume), and weight (mass) respectively.
Measuring Tools For Cooking
Here are some essential and most common measuring tools for cooking:
⦁ measuring spoons,
⦁ measuring cups,
⦁ measuring jugs,
⦁ Digital weighing scale,
⦁ and meat & oven thermometers.
How to Measure Ingredients Properly
As a food blogger or cooking enthusiast, I feel like a responsibility to share this 'cooking measurement' information with my audience to get easy in cooking. Making recipes are so easy if you are using the right measuring tools especially when you are working on baking products.
Dry Ingredients: Measuring cups and spoons are used to correctly monitor the number of dry and solid ingredients like salt, flour, baking powder, etc. Make sure to level the ingredients using a knife to get the exact quantity.
Liquid Ingredients: Measuring jugs are used to monitor the quantity of liquid like water, stock, or other fluids. Usually, the metrics are listed on jugs that you can mark to fill up the required quantity.
Digital Weighing Scale: Used to get the exact size of ingredients in grams and ounces. To get the required quantity of pasta, you can use the weighing scale.
Oven thermometer: It will help you to find the best position to place the baking dish in oven.
To make delicious and perfect recipes, a cooking conversion chart is so important to understand as it helps you to add ingredients according to requirements. Beginners who are in process of learning cooking normally get confused with the cooking abbreviations, measuring conversions, and other metrics that normally use to make a perfect recipe.
Cooking Abbreviations for Measurement
| Cooking Abbreviation(s) | Unit of Measurement |
| --- | --- |
| C, c | cup |
| g | gram |
| kg | kilogram |
| L, l | liter |
| lb | pound |
| mL, ml | milliliter |
| oz | ounce |
| pt | pint |
| t, tsp | teaspoon |
| T, TB, Tbl, Tbsp | tablespoon |
Volume Conversion of Ingredients
Cup, Fluid ounce, tablespoon, and teaspoon = Imperial system (US standard)
Mililiter = Metric system
| | | | | |
| --- | --- | --- | --- | --- |
| Cup | Fluid Ounce | tablespoon | teaspoon | Milliliter |
| 1 cup | 8 oz | 16 Tbsp | 48 tsp | 237 ml |
| ¾ cup | 6 oz | 12 Tbsp | 36 tsp | 177 ml |
| ⅔ cup | 5 ⅓ oz | 10.6 Tbsp | 32 tsp | 158 ml |
| ½ cup | 4 oz | 8 Tbsp | 24 tsp | 118 ml |
| ⅓ cup | 2 ⅔ oz | 5.3 Tbsp | 16 tsp | 79 ml |
| ¼ cup | 2 oz | 4 Tbsp | 12 tsp | 59 ml |
| ⅛ cup | 1 oz | 2 Tbsp | 6 tsp | 30 ml |
| 1/16 cup | ½ oz | 1 Tbsp | 3 tsp | 15 ml |
Volume Conversion of Ingredients
How to Manage Oven Temperature
It's important to understand the basic standards to manage oven temperature. Normally oven temperature is measured in Fahrenheit and celsius and some ovens used Gas marks. Below table shows the general settings to set the temperature.
| Fahrenheit | Celsius | Gas Mark |
| --- | --- | --- |
| 275º F | 140º C | Gas mark 1-cool |
| 300º F | 150º C | Gas mark 2 |
| 325º F | 165º C | Gas mark 3-very moderate |
| 350º F | 180º C | Gas mark 4-moderate |
| 375º F | 190º C | Gas mark 5 |
| 400º F | 200º C | Gas mark 6-moderately hot |
| 425º F | 220º C | Gas mark 7- hot |
| 450º F | 230º C | Gas mark 9 |
| 475º F | 240º C | Gas mark 10- very hot |
How to manage oven temperature
Basic Standards of Oven Temperature
Very Slow 250°F to 300°F
Slow 300°F to 325°F
Moderate 350°F to 375°F
Hot 400°F to 425°F
Very Hot 450°F to 475°F
Cooking Conversion Tips
For perfect cooking or baking, invest in measuring cups and spoons.
Don't mix the other ingredient while measuring one.
Keep the bowl clean and dry to measure with one ingredient.
Always focus on leveled measuring. Use a knife to level the dry or solid ingredients.
If you don't have a proper measuring set for dry or liquid then first measure dry then move to liquid measuring.
Must know about the measurement conversions for proper cooking. You can also follow below cooking calculators.
Online Cooking Calculators
If you are not satisfied with measurements then you can easily use cooking calculators to find accurate numbers. Here are some Recommended Online Cooking Calculators
Q & A
How to measure dry ingredients in a liquid measuring cup?
It's easy to measure dry ingredients in a liquid measuring cup it's marked by cup size. For example; you can add flour to a liquid measuring cup to the mark of 1 cup or use it according to your recipe requirements. Judge the size as you can't level it.
What types of ingredients are measured with measuring spoons?
You can use the measuring spoons to measure spices, baking ingredients like baking soda, and liquid ingredients like vanilla essence, honey, yogurt, or related ingredients.
How to measure food in grams?
You can simply use a weighing scale to convert ingredients in grams.
Generally 1 cup = 120 grams.
1 tablespoon = 21.25 grams
How to measure food without a scale?
The best way is to use measuring cups. Generally, all the products are marked with a size so you can manage them according. Like; you have a pack of 1 kg chicken and you need 500 gm. Then divide the whole pack into half on the basis of the idea.

In the same way, if you need 1 cup of flour then make an idea to make a fist. 1 cup is normally equal to the size of a fist. 1 tablespoon is equal to the size of a thumb.