Here is the complete guide of different types of cooking methods and secret cooking techniques that commonly used in home kitchen. This post will deeply help to improve your culinary skills to adapt the suitable method for your recipes.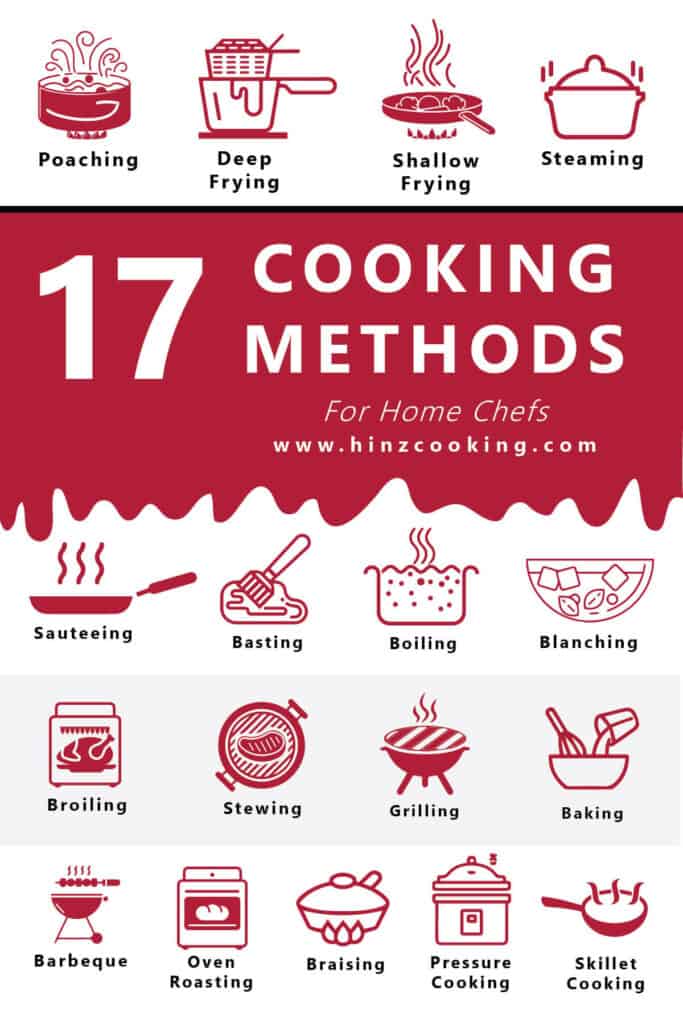 Cooking can be easier and more perfect if you know the right "cooking method" and "techniques" to cook your food. Today, we are sharing some essential and common cooking methods that can help you to make irresistible food for your dinner or lunch.
Different types of cooking methods and cooking techniques will surely help home chefs in the kitchen to prepare perfect recipes.
Jump to:
These cooking methods and techniques can easily be applied according to recipe requirements. All these methods and techniques are simple and effective and essentially help home chefs and beginners to adopt the right method at right time and significantly help you to make your food delicious.
17 Cooking Methods and Techniques
To simplify, all these cooking methods has been classified in 3 types. Let's have a in lenght look.
Moist Heat Cooking Methods
Moist heat cooking technique simply use by applying steam or liquid to cook food. Food cooked with steam is more healthy and extremely juicy and tender as compared to other methods. It intact the healthy nutrient and make it tastier and more delicious. If you are following the healthy diet then methods can help you to cook healthy food.
In 'moist heat cooking method' liquid is used as a source to cook food. It could be a oil, water, broth or any other food texture that made with liquid. Below are the few methods that you can use to cook food using the moist cooking technique.
Here are the popular methods for moist heat cooking:
1) Poaching
This technique refers to simmer food in liquid on slow heat (160F – 180F). Poached eggs, and Poached Salmon is the most famous recipe in which you place food in water or sauce to cook.
This is also a recommended food technique to prepare weight loss food dishes. You can poach variety of food like meat and vegetables.
2) Boiling
Another cooking technique is to simmer food on boiling temperature (212°F) called 'steaming' in which food cooks on high temperature and get tender using hot water vapors.
If you are on diet, then this cooking technique is the most recommended to adopt in your daily cooking routine.
Here are some boiling food recipes:
3) Steaming
Another technique to cook the food is 'steaming' in which food cooks on high temperature and get tender using hot water vapors.
If you are on diet then this cooking technique is the most recommended to adopt in your daily cooking routine.
To steam the food, you can place food in cooking steamer, or you can also use a pan with boil water and place strainer over it and cover it to make homemade strainer. Now you can place your food like fish, chicken, vegetables over the strainer to cook it properly.
Homemade Steamed Chicken Recipe
4) Blanching
One of the most technical method. Blanching is the most used cooking process to boil or scaled the vegetables in hot water and after a short duration, hot water needs to drain out and vegetable needs to place in cold or chilled water. Blanching cleanses the surface of dirt and organisms, brightens the color and helps retard loss of vitamins.
Here is the complete procedure to Blanch Vegetables.
Dry Heat Cooking Methods
Conventionally 'dry heat cooking method' specifies cooking without water. Food cooks by exposing to heat without any liquid addition. Let's take an in length look to cook food in dry form!
Basically in dry heat cooking technique the food is exposed with direct heat like to cook food in oven or with bbq method. Roasted, grilled or bbq meat and veggies are the best example.
Direct heating method cooked the food by using the natural water of food. Using this method the food is extremely tasty and delicious but need extra care to balances the natural juices of food to avoid rubbery texture. It's an art to make moist, juicy and tender food using dry heat method.
Direct heat methods make the food brown and add a roasted crust that makes it super scrumptious. It requires understanding to balances the temperature while cooking.
Here are some dry heat cooking methods that you can apply in your cooking.
5) Grilling
Grilling is same as broiling where you give color to your food by exposing heat. The only difference between grilling and broiling is: in grilling the heat comes from downside and in broiling it comes from the upside of cooking oven. For grilling purpose, people use a different type of grillers to cook food.
Here are some Grilled Meat Recipes to follow.
6) Roasting
One of the most famous methods of cooking is 'Roasting' which require food to cook using indirect heat. Normally people love the roasting using the oven. In this cooking technique, food cooks initially on the high 'indirect heat' and after few minutes switch to 'medium heat' so the food cook from inside. It makes food juicy from inside and roasted from the upper side. Preferably you can use meat to roast inside the oven also try with the vegetables. It tastes awesome!
Roasting recipe ideas:
7) Broiling
Many people ask this question like what is broiling? It's similar to grilling in which food directly expose to heat to cook the upper layers. You can easily broil your food using the oven to turn on the radiation from upside. Broiling is normally termed as fast method of cooking like sometimes you give some sort of grill effect to your food to make it more delicious and tempting in a first glance.
Some Broiling Ideas:
8) Baking
Baking is the most sophisticated method of cooking that uses dry heat to cook food. Most people use the oven as a medium to bake food, Traditionally people use hot stones to bake food. Normally people make confectionery product using this method like to make cake, cookies, and bread.
9) Barbeque (BBQ)
Exciting and most thrilling cooking method that normally people use to cook their food using charcoal. It's a most demanding way of cooking and normally people love to eat barbeque food. It's delicious to eat and people love the charcoal aroma. You can cook meat and vegetables using barbeque method.
10) Pan Frying (Shallow Frying)
As the name specifies that food cooks using a small amount of oil. As a matter of fact, 'Shallow frying' is the most common technique to prepare or fry food like 'cutlet', 'fried eggs', 'omelet' and others. It's simple and easy to apply as a cooking method.
11) Saute (Stir Frying)
Sauting or stir fry is the cooking technique to use a very low amount of oil to cook food. In this method, the oil quantity is thinner and normally use to prepare stir-fry dishes.
Check the recipe of Sauteed Mushrooms with Garlic
12) Deep Frying
In deep frying method, normally the high quantity of oil is used to fry the food. As the name depicts the food should be drowned into the oil to use this method. Normally french fries, fried chicken that you normally take from famous fast food restaurants use this cooking method to deep fry the food.
How to Deep Fry at Home without a Deep Fryer (Video)
13) Basting
In this cooking technique normally the food cooked in their own juice or liquid. Basting is much similar to a roasting method. The end result of basting shows juicy, gravy driven food with some roasted effect on the upper skin. It's a delicious way to cook food using this method. You can apply 'basting' on meat and vegetables.
Combination of Moist and Dry
In culinary art, the combination of moist and dry cooking method makes a perfect food with extremely delicious taste with tender and juicy texture from inside.
In combination cooking method, you can apply the combination of dry and moist heat like making braised chicken with stewed veggies.
Let's have a in length look like how the combination cooking methods can be performed in home kitchen.
Let's discuss all 3 with different types of cooking techniques.
14) Braising
Basically, it comes from 'braiser' the French word and it's cooking method that you both dry and moist heat method. In this cooking technique, the food is cooked on high temperature and then you can keep it on low by adding liquid. Most of the South Asian cooking based on 'braising' method. Most of the meat curries are made using this method.
15) Stewing
One of the best technique to prepare gravy style food. It's a slow cooking process on low heat in which food is being cooked with liquid to form stock/gravy/sauce. As the liquid gets thickened and food become tender the cooking is complete. Most recommended preparing stew food on the cooking stove.
Indian Chicken Stew Recipe (Video)
16) Pressure Cooking
You must be familiar with old style stovetop pressure cookers where food is cooked with extremely high steam pressure. Best for meat tendering, and cooking legumes.
In a normal steamer and pan cooking process the heat is limited to 212°F in a boiling condition but in pressure cooker the steamed pressure reached to 250°F that helps to makes quick food.
These day Instant pot cooking method is trending and many people are using it to cook quick meals.
Here are some ideas of Instant pot recipes.
17) Skillet Cooking
Most traditional and multi purpose cooking technique with skillet. You can use it for sautéing, braising, frying, searing and baking. I personally love it as it helps to make quick food.
Some skillet cooking ideas:
Cooking is an art, and it can easily be understand just by practicing with right techniques. If you are learning cooking, new chef or beginner and looking forward to cooking home food in an amazing way then these cooking techniques will guide you to adopt appropriate method for your food.
All these cooking methods are simple and effective only required understanding to cook food by adding temperature variations that makes a big influence on the quality and taste of food. Like; if you want to eat lamb curry then stewing and pressure cooking is the best technique. In the same way, if you want to eat chicken roast then oven roasting and broiling is best. In case, if you change the mind and want to eat steamed chicken then steaming the food is best technique.
I hope this article will be helpful to you. You can let me know in comment section if you have any question.