Healthy Cooking Tips and Techniques for Home Chefs: Simple and easy tips for homemade cooking that will help you to stay organized in the kitchen in a healthy way. These are the most asked questions that people ask. If you remember these small tricks then it will be useful for you to have a happy time in your kitchen 🙂
Cooking Tips and Techniques
So Let's have a look! I was small when I started cooking so it was tough to learn about basic cooking techniques. My mother helps me a lot as I was enthusiastic so these cooking tips based on best practices that you can easily apply to make a happy time in the kitchen by staying organized.
1. How to Get Rid with Tears while Cutting Onion
If you want to experience happy onion cutting without tears then just rinse it right after removing the upper skin. It's best practice tips that will help you to get rid of tears while cutting an onion.
2. How to Store Green Chilies for a Long Time?
A simple way to store green chilies is just removed stems of chilies and packed in an airtight container and place in the fridge. Take out when you need. In this way, you can store the green chilies for 1 month.
3. How to Peel Tomato Skin Easily?
Just keep the tomatoes in the microwave for 1 minute. Skin will detach so it will easy to remove and cut tomatoes. IF you don't have a microwave then place in hot boiling water for 2 minutes and remove the skin.
4. How to Store Mint Leaves
The best idea to store mint leaves is to place mint in a damp paper towel. Wring it if you feel a paper towel is wet or watery. Place the towel in a plastic bag in the fridge. It will help to refresh the mint for 10 to 15 days.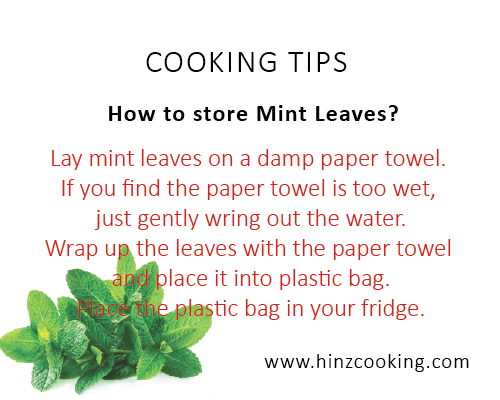 5. How to Stop Being Thirsty in Summers?
If you are feeling thirsty in hot and humid weather then just limit salty food in your diet. Also, try to drink fresh water rather drinking sugar enriched beverages. Don't have carbonated drinks. Eat kidney-friendly diet fruits with your meal like apple, blueberries, cranberries, etc.
6. Which Oil is Best for Weight Loss?
Canola, peanut and sunflower oil are the recommended oil if you are choosing oil for weight loss. Canola contains a high amount of Omega 2 fatty acid and low value of saturated fat. Coconut oil is also recommended.
7. What is the Healthiest Frying oil?
Extra light olive oil and sunflower are great options to use when you deep dry foods. Both have high smoking points and healthy unsaturated fats. You can also include canola, sunflower, and peanut oil.
8. How to Store Used Frying Oil?
Wait to cool down the oil then strain using a sieve. Pour oil in the airtight bottle to reuse. Try to avoid reheating the same oil multiple time.
9. How to Manage Extra Salt in Curry?
The best way is to add yogurt in curry and cook on extra high heat to blend the taste. Another option is to add potato or any other vegetable in the curry to balance the salt. You can also use tomato paste to manage salt quantity. Just add tomato paste and cook on high heat.
10. How Does It Take to Boil the Eggs?
Boil eggs in hot water for 12 minutes. For large eggs, the maximum time is 9 minutes and for extra-large eggs 15 minutes.
11. How to Get Rid With Slightly Burnt Milk Smell?
12. How to Get Rid With Oil Foam During Frying?
13. How to Get Rid With Garlic Odor From Hands After Cutting?
14. How to Easily Squeeze Lemon Juice?
Microwave the lemon for 10 - 15 seconds. Heating will make the lemon soft so it will easy to squeeze. In the same way, you can also dip lemon in hot boiling water for 2 minutes to squeeze easily.
SEE ALSO: