Super quick and easy tips on how to deep fry at home safely without using a deep fryer. Simply use a regular frying pan or wok and safely fry using these frying techniques.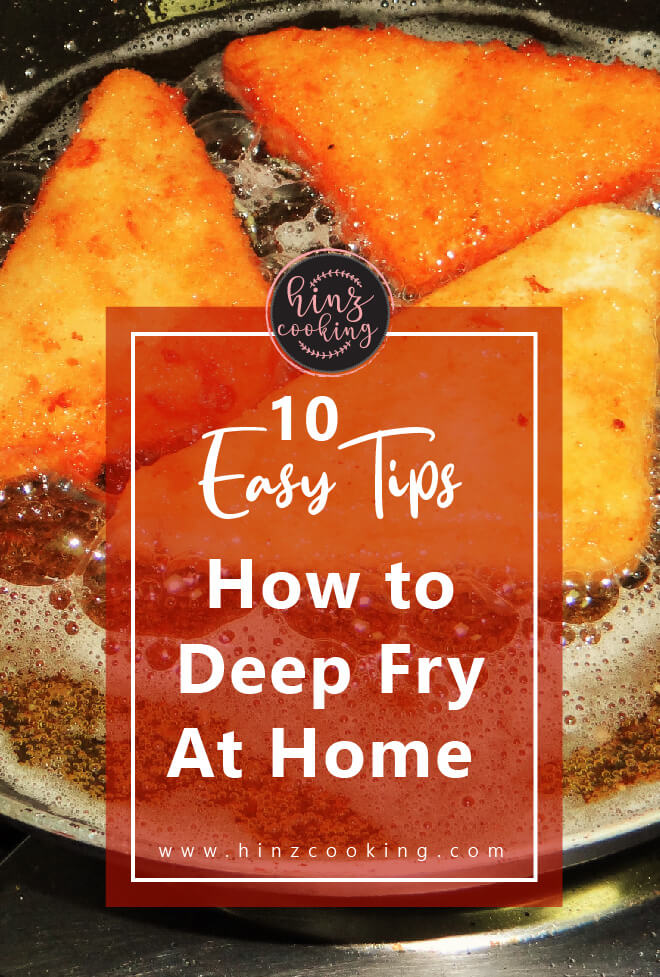 Jump to:
Everybody loves to eat golden brown, crispy, and nonoily fried food so the color and texture of fried food are important. If you want to have perfect fried food at home then explore these easy tips and tricks that will help you to get quality fried food for your family and kids.
I explored 'how to deep fry at home' techniques with experience and best practices gave me the idea that a simple and regular wok is enough to get restaurant-style food at home. So here are some points that can help beginners to get healthy fried food for dining.
Many people have asked me if our chicken gets soggy after a few minutes of frying then what to do? Well, if your fried food absorbs oil or if you are dealing with the bad texture of fried food then explore these simple techniques that might help to improve frying results at home.
How To Fry At Home (10 Tips)
1) Select Right Oil
An extremely important step of frying is to use the right oil for frying. To select the best oil make sure to choose the one which has a higher smoke point (above 375°F) so it will not burn and give you quality results.
For commercial frying, mostly these oils are used:
Refined Canola oil
Hydrogenated fats
Refined Sunflower oil
Soyabean oil
If you want healthy frying then try olive oil for deep frying. Olive oil contains healthiest fats. It's resistant to heat because, like animal fats, it's high in monounsaturated fatty acids. Oil plays an important role to get the perfect frying result so choose your oil wisely.
2) Choose Right Pan For Deep Frying
If you don't have an electric deep fryer at home then don't worry. A regular wok or frying pan can help you get quality frying but make sure it should be heat resistant.
Use a deep mouth frying pan
Pan body able to maintain a high temperature
Make sure the pan size should be adjustable to frying stuff
3) Manage Oil Quantity
It's important to manage oil quantity for perfect frying results.
To manage oil quantity focus on 2 points:
Oil should not overflow while frying
Oil Should cover the whole body of frying food
This is a simple and easy way to manage oil quantity. You don't need 1 Kg oil for deep frying to simply fry 2 chicken leg pieces. You have to manage your oil quantity according to the food that needs to fry.
4) Manage Oil Temperature
The most important part of frying is to manage the oil temperature. Many people use a thermometer to check oil temperature which is good but if you don't have then you can still manage the temperature.
Oil is Cold
If frying food sinking without resurfacing
Oil is Hot
If frying food floating on oil
Oil is Extremely Hot
Avoid extremely heated Oil for good frying
Check your oil temperature putting a small piece of frying stuff. If it gets dark in few seconds then oil is extremely hot. Turn the temperature down.
To manage the correct frying temperature check the thickness of frying food like chicken or meat or snacks. According to the standards temperature needs to lies between 350–375 °F (177–191 °C).
5) Initially Place Frying Stuff on High Temperature
Whatever you are trying to fry make sure to put your food on high temperature and as it get the first crispy coat then turn the temperature down to cook the food from inside.
I personally apply this technique and it always gives me the desired result.
If you place your food at low temperature or extremely high temperature then it will get burnt or absorb oil during frying so make sure to place the food on medium to a high temperature but avoid extremely high temperature.
Initially place frying stuff on hight temperature,
As it gets first crispy coat, turn the heat to medium to low,
Once the food is fried from inside,
again turn the heat to medium to high until get quality color.
This technique will help you to get crispy food on the table without soaking excessive oil.
6) Don't Overcrowd the Food in Oil
One of the best techniques of deep-frying that doesn't put so much frying stuff in your oil otherwise it will be packed and release water so your frying object will not give the desired result as you want and the food texture will be affected.
For this, check the size of your wok or pan and the level of oil in the pan, and then add frying stuff.
7) Avoid Oil Foam
A pinch of turmeric can help to get rid of oil foam. This is a simple technique that can make a big difference in your frying food. Normally people deal with bubbles or foam while frying meat so uses this technique and you will feel the difference. If it helps you then please share in the comment section.
8) Spoon Technique Taking Out Frying Food
A simple and straight tip is to Tilt Spoon while taking out the frying food from the pan. This step will release excess oil in the pan. Normally if you don't tilt then the oil comes with a frying object that makes it soggy after few seconds and the frying stuff looks so oily. So always tilt your spoon while taking your food from oil.
9) Place Frying Food on Kitchen Paper or Grill.
This step will absorb excess oil and keep the food crispy for a long time.
10) Don't Cover the Food
Make sure to keep your frying on your kitchen paper or grill without covering until it releases the heat. Otherwise, it will get soggy.
Cooking and frying both are equally important to get quality food results. Little application of tips and techniques can make your food awesome in taste and presentation. If you know any other technique according to your experience. Please share in the comment section. Join us on Facebook and Instagram.
How To Deep Fry At Home Video
Home Fried Food Idea
More Ideas: Chicken Broast | Fried Sandwich | Potato Wedges | Egg Finger | Pakoda | Samosa Finger | Aloo Tikki | Potato Smiley | Rava Finger