Jump to Recipe
Quick and easy Indian-inspired vegan 'Chickpea Curry' made with ginger, garlic, tomatoes, and cream. Extremely delicious easy dinner idea for foodies. Makes a perfect combo with steamed basmati rice and naan bread. Watch the video recipe to follow the quick steps to make at home kitchen.
This recipe brings memory for me as my mother used to make this chickpea curry that we locally call it chana masala or chole masala at home. Whenever she cooked chickpeas, one portion is dedicated to chickpea curry and chickpea pulao was a must. The compelling aroma of chickpeas with cream and tomato paste creates a perfect taste. It's nutty, a little spicy, and sour in taste that's the reason why it tastes so good with steamed rice.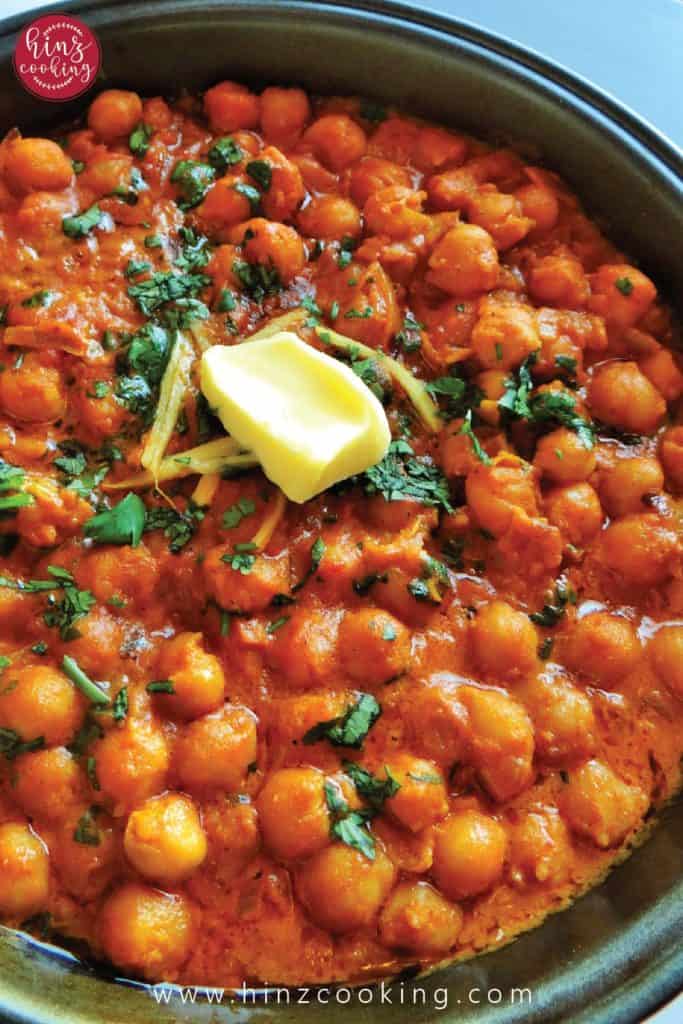 Pakistani and Indian food recipes are famous all around the world. Vegan chickpea curry is one of the most famous dishes of Punjab that people crave to eat. There are many versions and variations of this recipe that people adopt according to their regional taste.
Here I made this restaurant style vegan chickpea curry that purely based on pantry spices and fresh cream. Super easy to make and extremely delicious. Beginner and bachelors can also try this recipe.
How to Make Chickpea Curry Recipe
There are two ways to make chickpea curry:
1) With homemade cooked chickpeas.
(Here is a step-by-step recipe for how to cook chickpeas at home).
2) Canned chickpeas (store-bought).
I personally recommend making chickpea curry with homely cooked chickpeas as it gives the best taste on dining. To cook the chickpeas, you need to soak it overnight (8 hrs maximum) in deep-filled water and then drain water and wash the chickpeas. Place the chickpeas in a pan and fill with water to the chickpea level. Add salt and soda bicarbonate. Cover and cook for about 1 to 2 hours on the stovetop at medium temperature. Most recommended following the quick direction here.
If you already have cooked chickpeas in the freezer then take them out and defrost them in the microwave or room temperature.
Now we are all set to make this chickpea curry.
What's Special About this Chickpea Curry Recipe
Caramelized onion with ginger garlic paste along with salt, peppers, and spices make a roasted texture of curry. The addition of tomato puree and freshly ground tomato paste adds a unique taste to chickpeas. Then you can add cream to add more flavor and aroma to this recipe.
This recipe is not only for adults but also kids friendly so you will a special family time when all eat this together.
Chickpea Curry Recipe Video
Before going into the recipe details, It's best for your to watch this quick video recipe that will help you to follow the quick steps. It will make your cooking time easy in kitchen.
Here are the chickpea curry ingredients that you needed:
Chickpea - 1.5 Cups: I personally love to use organic chickpeas (pre-cooked for this recipe)
Onion: 1 medium size and chopped.
Ginger Garlic - 2 Tsp: In this recipe, I used grated garlic and ginger paste.
Salt - ½ Tsp: As the chickpeas already contain salt so I adjust the salt according to the curry.
Red Chili Powder - 1 Tsp:
Coriander Powder - 1 Tsp:
Turmeric Powder - 1 Tsp:
Tomato Puree- 1 Tsp:
Fresh Tomato Paste - 1 Tbsp: Take the fresh tomatoes and peel the skin blend with water to make a paste.
Garam Masala - ⅓ Tsp: I don't want to create a strong flavor of garam masala so just sprinkle it to give a taste.
Fresh Cream - 1 Tbsp: Don't skip this, it will really create a good taste.
Cilantro/Fresh Coriander and Butter is for garnish the dish.
Making of Chickpea Curry
In a pan, add oil and heat it up.
Add chopped onion in heated oil and cook until it gets translucent.
Now add ginger garlic paste, salt, red chili powder, coriander powder and turmeric.
Saute the spices for few minutes until it become aromatic.
Now add tomato puree
Also, add fresh tomato paste. (Blend the peeled tomatoes with water).
Now cook for a minute until the oil starts to separates in curry.
Add cooked chickpeas in curry and gently mix it.
Now fresh cream and mix well.
Sprinkle garam masala.
Cover and cook for 5 to 10 minutes on medium/low temperature to simmer the chickpeas.
After, garnish with cilantro/fresh coriander and butter and serve.
Serve With: Naan | Butter Rice | Green Chutney | Veg Salad | Shami Kabab
9 Tips to Make Best Chickpea Curry
Chickpeas need to be 100% cooked to get the best texture and taste of curry.
If you have hard-boiled chickpeas then add a pinch of soda bicarbonate and it will make big difference to make the chickpeas soft and moist.
Translucent onion needed to make this recipe don't make it pink or dark brown otherwise the taste will be compromised.
Never make tomato paste with skin. Peel the tomato skin to make tomato paste it will create the smooth creamy texture of curry.
Just a pinch of garam masala is needed for this recipe. Don't overspice!
Share this recipe with your family and friends. It would be great if you leave your feedback in the comment box. If you make this recipe at home then share a picture with the hashtag #hinzcooking
Try it!! And Join Us
Here is a quick and easy 'chickpea curry' recipe that you can easily prepare at home to make a variety of dishes for lunch and dinner to share with your family and friends. You can join our Facebook group of foodies to interact with other foodies!! At Hinz cooking, you can find more recipes related to breakfast, lunch, dinner, and teatime. Explore recipe collection to get your desired recipes.
Some Thoughts About Chickpea Curry
Is chickpea curry good for weight loss?
Chickpea contain lots of protein, fiber and healthy vitamins and minerals that helps in weight loss and keep you fuller for long time. Nutritionist advise chickpeas to have during diet program.
Are canned chickpeas cooked?
Yes, you can! but the best taste you will get if you use freshly cooked chickpeas. If you are using canned then wash it with tapped water using strainer and then use it in curry. If you feel the canned chickpeas looks harder in curry then add a pinch of soda bicarbonate and it will give you the best taste of curry.
How long does chickpea curry last in the fridge?
If you are refrigerating then it will last for 3 to 4 days. Make sure to pack in airtight container.
Can you freeze chickpea curry?
Yes, you can! If you are freezing then it will last 01 month. I don't advise to keep it longer as it's homemade and not carrying any preservatives.
Chickpea Recipe Ideas
So now you have cooked chickpeas and you can try different recipes. Here are some ideas that I tried:
Chickpea Salad: Extremely healthy salad recipe that will also help in weight loss.
Falafel: Quick and easy Arabian snack recipe that you can easily make at home.
Crunchy Chickpea Snacks: Best for a healthy munching idea for foodies.
Chickpea Curry: Extremely delicious and tasty curry recipe to prepare with cooked chickpeas.
Chana Pulao: One of the best Indian recipes to cook chickpeas with rice.
Chaat: Popular recipe of South Asian street food to prepare with cooked chickpeas.