Honey garlic lemon pepper chicken recipe with juicy, moist, and tender chicken thighs or breast is the family's favorite dinner idea. The sweet and garlicky sauce with a peppery taste will double the flavor of every bite of chicken.
Looking for easy dinner recipes? Check out my, Chicken with Garlic Sauce Chinese, Chicken Tikka Masala, Garlic Butter Rice, and Tandoori Chicken. You will surely love these recipes to add value to your dinner table. If you like Lemon chicken then you must like Honey Garlic Chicken with Honey Roasted Carrots.
Jump to:
If you are looking for something tasty for your next dinner then make this Honey Lemon Chicken recipe and share it with your friends and family. They will surely love it!!
About Recipe
The Sweet, sour, and garlicky sauce with chicken breast makes a perfect taste
I never imagined that the combination of honey, lemon, and garlic with peppers can transform a pan-roasted chicken breast into a mouthwatering taste. First I marinate the chicken in a sauce then fried it with chopped garlic and then cooked the chicken with sweet and sour sauce for about 10 minutes it turned into a delicious chicken breast with sticky sweet and garlicky sauce. It's more like a restaurant-style recipe that you can easily prepare at home kitchen within 30 minutes.
When I shared this recipe with my family they told me to make more saucy next time as it was delicious and more to go with dinner rolls and rice. My 7-year-old son loved it! The sweetness of garlic and sourness of lemon makes it perfect to go with fried or roasted chicken breast.
Last time, I shared a honey garlic chicken recipe that seems similar but there is a big difference in taste. Both recipes are different and have plenty of options to serve with a variety of dishes.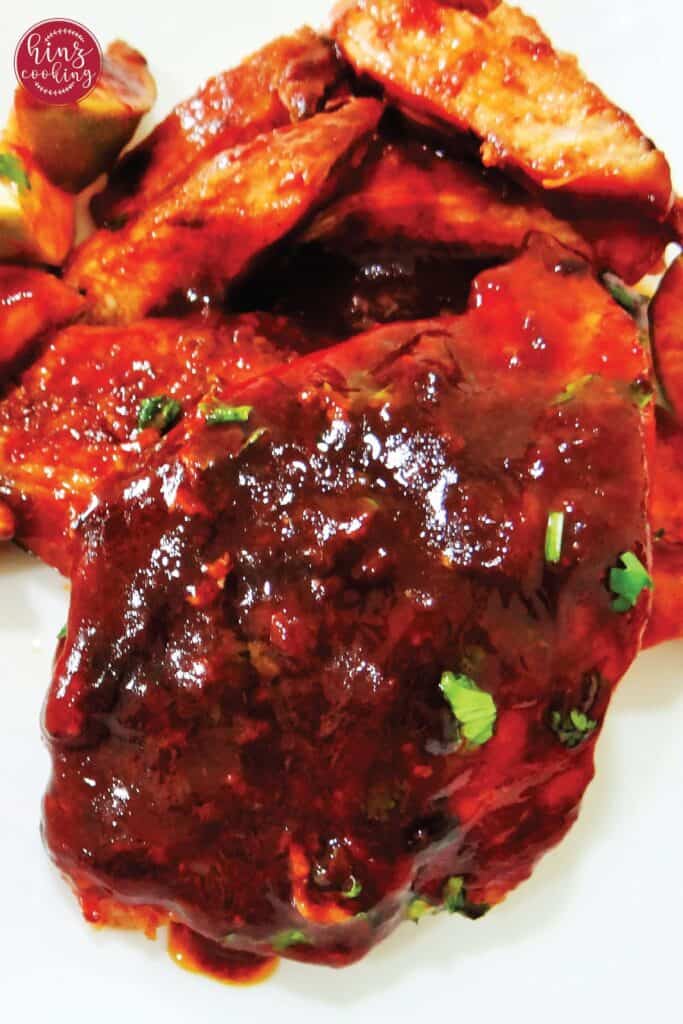 Honey Lemon Garlic Sauce
First, I combine all the ingredients, honey, lemon, soya sauce, and white vinegar then saute the grated garlic in olive oil and cooked the sauce in it until it gets saucy and sticky in texture. In the same pan, fry the chicken breast so it is cooked together with the sauce. You have two options to serve this recipe.
Serve the chicken breast and keep the sauce separate in a bowl.
Pour the sauce on the chicken and serve it.
How to Make Honey Lemon Chicken
To be very honest, it can be prepared within 30 minutes using a handful of ingredients that you normally have in a kitchen pantry. So many times, I have eaten lemon chicken in a restaurant and this recipe will give you some flavor, aroma, and presentation and you will have the restaurant flavor at-home dinner.
The sweetness of honey and sourness of garlic makes a great taste to fried chicken breast. The sizzling aroma and the drizzle of sticky sauce are enough to crave for this honey lemon garlic chicken breast.
Watch Recipe
It's been easy to watch the video recipe of this easy homemade honey lemon garlic chicken to make at home. It's simple and quick and easy and even you can prepare it in one pan. Here is the step-by-step process to prepare this chicken. If you are making this chicken then these steps might help you to make crispy, moist, and tender chicken breast with honey lemon garlic sauce for your next dinner or lunch.
Quick Tips
Brine the chicken with salt water to get juicy, moist, and tender chicken breast after cooking.
If you are taking the chicken right from the freezer then bring it to room temperature before cooking.
If the chicken breast is thick then flatten it using a kitchen hammer.
Cook the chicken breast on high heat to get a color mark on both sides. This step will block the chicken pores and it will cook juicy and moist.
Soya sauce is salty in taste so monitor the salt quantity.
During cooking honey starts to caramelize so don't cook on high heat for too long.
Serving Idea
It's a multi-purpose recipe, you can serve it as the main course by adding garlic butter rice, and dinner rolls. I personally love to have coleslaw with it but it all depends upon choice otherwise a simple grilled salad or chickpea salad also goes well with it.
As a side, you can also serve potato gratins, roasted honey garlic carrots, and mashed potatoes. Oven baked potato wedges are also an option and they taste too good with butter rice.
You can also serve garlic mushrooms along with the platter. If someone doesn't like the garlicky taste on the table then you can neutralize the flavor with mayo sauce.
You can also try Orange Peel Tea after dinner. It's a weight loss and detox tea for foodies.
More Chicken Breast Recipes:
Share this recipe with your family and friends. It would be great if you leave your feedback in the comment box. If you make this recipe at home then share a picture with the hashtag #hinzcooking
You Might Like This
Honey Garlic Lemon Pepper Chicken
Honey garlic lemon pepper chicken recipe with juicy, moist, and tender chicken thighs or breast is the family's favorite dinner idea. The sweet and garlicky sauce with a peppery taste will double the flavor of every bite of chicken.
Ingredients
Chicken - 250 gms

Olive Oil - 3 Tsp

Honey - 1 Tbsp

Freshly Squeezed Lemon - 1 Tsp

Dark Soya Sauce - 1 Tsp

White Vinegar - 1 Tsp

Salt - ½ Tsp

Black Pepper - ½ Tsp

Freshly Grated Garlic Cloves - 1 Tsp

Tomato Sauce - 1 Tsp

Parsley or Cilantro for Garnish

Lemon slice for garnish
Instructions
In a bowl, add honey, fresh lemon juice, white vinegar, and dark soya sauce. Give it a good whisk to combine all the ingredients.

Now in another bowl, add chicken breast and season with salt and black pepper.

Pour all the honey lemon garlic sauce over the chicken and mix well.

Now in a pan, pour olive oil and heat it up.

Add grated garlic and saute for few seconds until the garlic starts to change color and become aromatic.

Now place the chicken in a frying pan over the garlic and cook for about 2 to 3 minutes at high/medium temperature the chicken gets a color.

Flip the chicken and cook from another side in the same way.

Place tomato sauce and mix well with chicken.

Now pour the remaining honey lemon garlic sauce over the chicken and simmer it on medium heat.

It's best to cover with a lid for 10 minutes and cook on low heat to get juicy, moist, and tender chicken breast.

After 10 minutes, remove the lid and cook the sauce to make it thick.

Now the chicken is ready to serve.

Garnish with parsley and lemon slices.
Notes
Brine the chicken in saltwater before marinating with sauce. It will make juicy and tender chicken breast and will not be dried off during eating.
If you are taking frozen chicken then make sure the chicken is at room temperature.
Don't cook the sauce for a long time otherwise, the sauce will burn due to the caramelization of honey.
Avoid adding water to the sauce.
As we are adding soya sauce which is salty in taste so monitor the quantity of salt.
Soya sauce and vinegar make the best taste so don't skip it. It will give your better flavor in the sauce.
If chicken breast is thick then give it more time to simmer.
It's recommended to fry the chicken breast on high heat. It will make the chicken more delicious and juicy.
Nutrition