Jump to Recipe
Honey Garlic Butter Roasted Carrots Recipe serves as a side dish with the main course. Easy dinner idea for foodies to try!
Amazingly delicious and tasty honey roasted carrots with the flavor of butter and garlic. Glazed carrots make a perfect combination with honey garlic chicken so must try this combo in your dinner and you will have a great taste in your dining.
It's been a great idea to make oven roasted carrots with garlic and butter flavor and fully wrapped with honey garlic sauce. I personally love it and always make it whenever make grilled chicken. Every bite of oven roasted carrots with honey garlic sauce gives you a tender, buttery and garlicky taste that will make a perfect taste with chicken.
Oven Roasted Carrots Recipe
Roasted carrots can be prepared in a variety of ways and people make them with a different combination of herbs and spices. Here in this recipe, you will find tender and juicy honey garlic butter roasted carrots in the oven. It will prepare within 20 minutes with glazed roasted carrots flavor.
If you are planning for a family get-together, party or special dinner at home then must try this recipe as a side dish. It will go perfectly with fried dishes, grilled chicken, fried chicken, fried fish, and simply with garlic butter rice.
The sweet and sour flavor of honey garlic with roasted carrots makes a mouthwatering taste.
Don't forget to try the 5 Minutes Honey Garlic Sauce recipe. It's the best recipe for foodies to try food with sweet and sour flavors.
SEE ALSO: Honey Garlic Chicken Recipe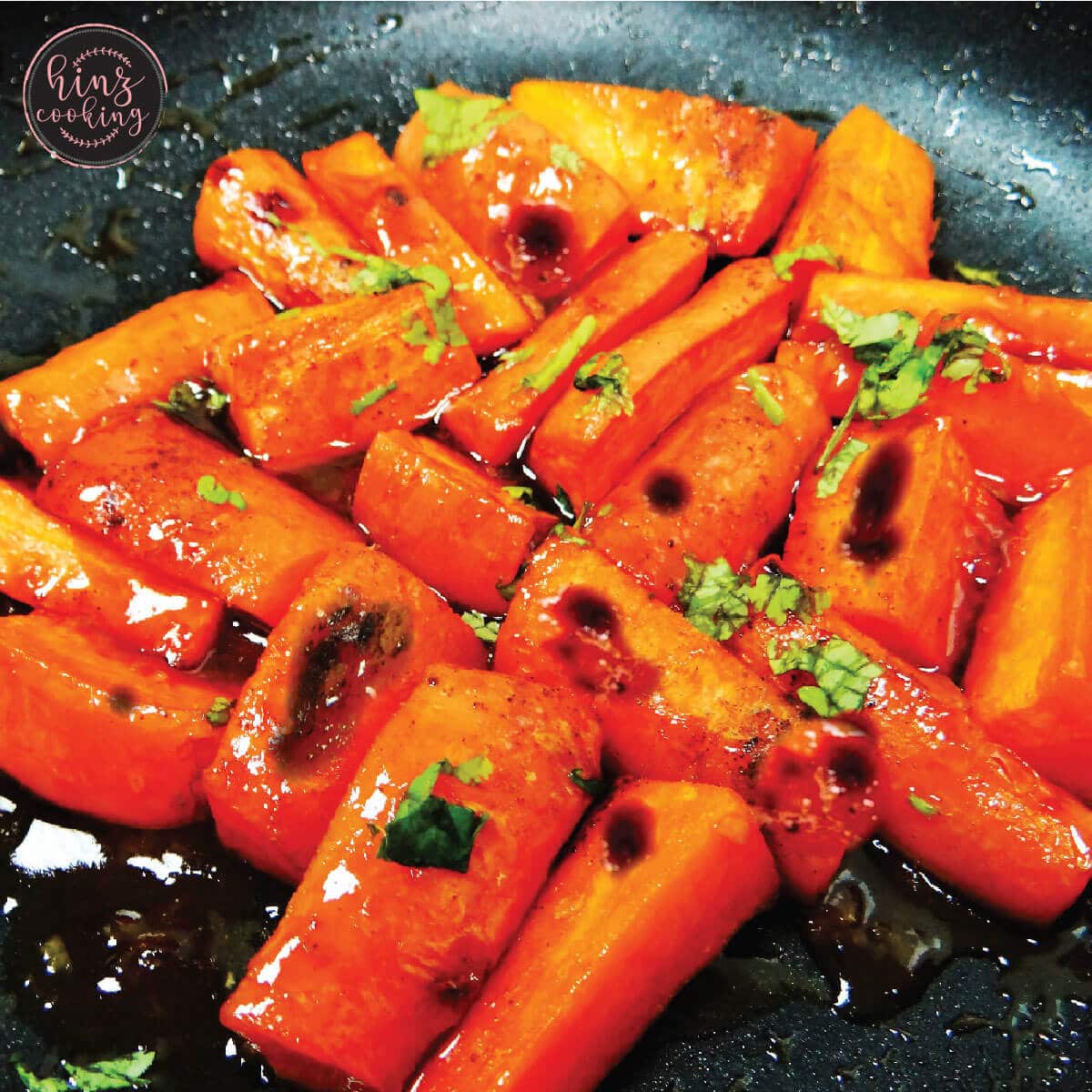 How to Roast Carrots in Oven
Roasting carrots is an easy process. As you only need to put flavor by adding desired seasoning and herbs.

I personally want to peel carrots first. Not removing the skin just rubbing with the knife (SEE in Video: 0:15 - 0.22) then sliced and wash properly.

Peeled carrots bring a perfect texture after roasting.
Then I prepared sauce and blend the carrots in honey garlic sauce.
Now placed in a baking dish and it's ready to go in the oven. Voila!
How Long to Roast Carrots
Roast for about 20 minutes on 200 degrees / 400 F or Gas Mark 6. You can increase the time as per your oven requirements and also how much roasting effect that you want.

Don't forget to sprinkle honey garlic sauce (I took out about 2 tsp from the pan before putting it to roasting). Also, sprinkle salt and peppers to add more taste! Garnish with chopped cilantro or parsley.
Sides Dishes To Make With Dinner
Honey Garlic Butter Roasted Carrots (VIDEO)
It's been a wonderful experience to make glazed garlic butter roasted carrots recipe. Here is a step-by-step video recipe that you can easily roast at home kitchen. So if you are a beginner and looking for how to make this quick side dish then watch this quick tutorial. You can find the recipe card down below this post.
How to Store Roasted Carrots?
Cool it down completely and pack it in an airtight container and place it in the refrigerator for 3 days. When you need it then take it out and place in microwave and serve.
I personally don't recommend refrigerating for more than 3 days as it's homemade and not containing any preservatives.
How to Peel Carrots?
I always peel carrots before making as it gives the best texture after cooking. Peeled carrots look so clean and smooth. It also helps to remove dirt.

You can peel carrots as per your requirements as you like them. If you want small pieces then make them small. Normally people cut it in crosswise pieces. Longer pieces look good after roasting. If you have thick carrots as I had then cut them into sections. If you have thin carrots then simply cut it diagonal shape.
Print
Honey Garlic Butter Roasted Carrots Recipe
Making oven baked honey garlic butter roasted carrots recipe for foodies to make as a side dish with dinner or lunch. Glazed roasted carrots that you love..
Materials
Carrots - 2 Cups

Cut into pieces

Oil - 2 Tsp

Butter - 2 Tsp

Garlic - 1 Tsp

Honey - 1 Tbsp

Ketchup - 2 Tsp

Soya Sauce - 1 Tsp

Salt - 1 Pinch

Black Pepper - 1 Pinch

Cilantro for garnish
Instructions
Cut the carrots from sides and peeled well.

Wash and cut into longer pieces.

In a pan, melt oil and butter and let it cook for few seconds until it gets bubbly.

Add grated garlic in a pan and saute until it turned to slight brown color.

Now add honey and mix well.

Add ketchup and soya sauce to add more flavor.

Combine all the ingredients to make a blended sauce.

Now add carrots and mix well.

Preheat the oven at 200C/400F or Gasmark 6.

Set the carrots in a baking tray with some distance.

Roast the carrots in oven for 20 to 25 minutes until the carrots shows the roasted texture.

Remove from oven and season with salt and peppers.

Garnish with chopped cilantro or parsley.
Notes
Use peeled carrots to get the fine roasted texture.
After washing, make sure the carrots are dried.
Don't use salt if you are using soya sauce in a sauce. 
You can directly add honey garlic sauce to carrots and directly place it in preheated oven to roast carrots. 
To add more flavor you can also add shredded parmesan right after roasting.