Jump to Recipe
Making restaurant-style authentic Chicken Shish Tawook recipe for family dinner. It's a popular Lebanese chicken skewer kabob (famous Shish Taouk) recipe that anyone can try. Marinated boneless chicken skewers cooked on the stovetop grill bring quality taste to your table.
Looking for easy dinner recipe ideas? Check out my Garlic Butter rice, Chicken Tikka Masala, Tandoori Chicken, and Steam Chicken. You will surely love these recipes to add value to your dinner table. Don't forget to watch the famous Falafel recipe in my collection that I prepared with love for a family get-together.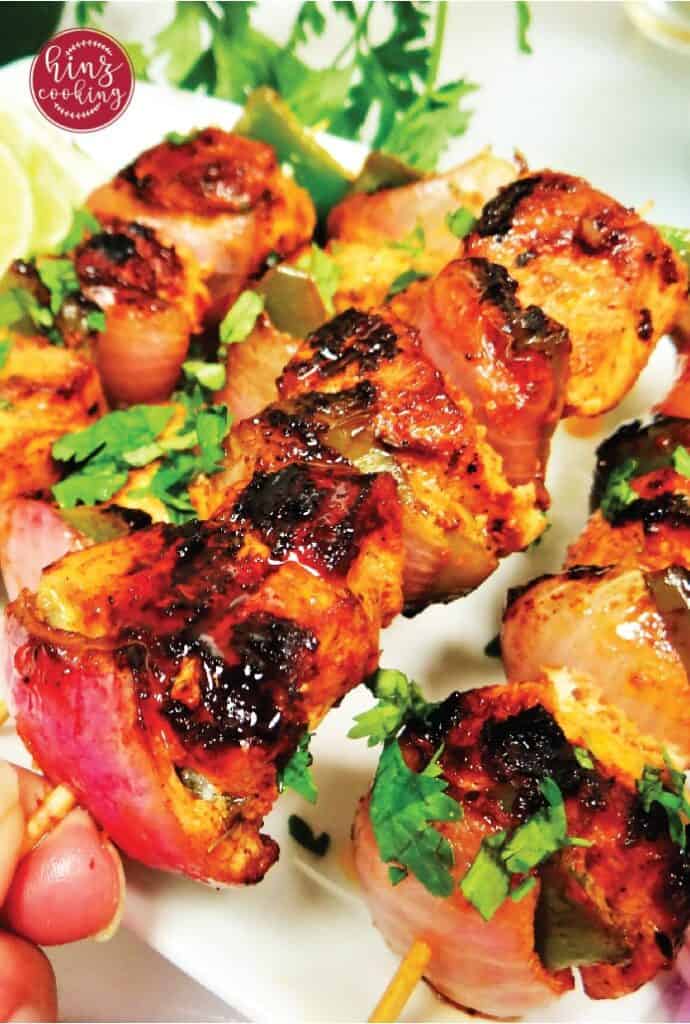 Jump to:
What is Chicken Shish Tawook?
Tender and juicy chicken cooked with skewer perfect for dinner
Shish tawook is the most popular middle eastern recipe that people love to eat due to its unique taste and aroma. It's a tender, soft and juicy chicken cooked with skewers that initially belong to Ottoman cuisine and now set as a middle eastern dish.

There are 2 ways to make this recipe, Lebanese style shish tawook or Turkish taouk. Here I am making a Lebanese version of shish tawook that prepare by marinating chicken with yogurt, fresh lemon juice, tomato puree, and spices. People from the middle eastern region, especially Egypt, Syria, Palestine, Iraq, Azerbaijan, Armenia, and Turkey love to prepare this recipe at home. It's a simple and easy recipe idea that brings flavor to your table.
If you are a true foodie and love to travel then you can find this dish all around the world by exploring kabob section in menu.
Why is it called Shish Tawooq?
As the dish is from Ottaman cuisine so the Shish = Skewer,
and Tawooq (Tavuk) = Chicken.
How to Make it?
It's a simple and easy recipe that you can prepare with a handful of ingredients that normally people have in the pantry. I personally love to make this recipe as I love the taste, aroma, and tempting look of this recipe that's enough to crave.
Start by making marinating boneless chicken (without skin) by adding yogurt, freshly crushed garlic, lemon juice, and tomato paste. I added mustard as it gives a perfect flavor! Also added extra virgin olive oil to add lubrication in the marinade. In spices, added cinnamon, ginger powder, black pepper, oregano, and paprika. Sprinkle salt and added chicken. Give it a good mix. Leave it for 3 to 4 hours to marinate.

Tip: 7 to 8 hours marination or overnight can give the best taste!

Longer marination can make the chicken more tender and juicy. Fresh lemon will work as a tenderizer to accelerate the chicken tendering process. If you want extra tenderness then add few drops of vinegar.

Prepare some fresh onion and green bell peppers cubes to make it more tasty and presentable. I used soaked wooden skewer and first added onion and bell pepper cubes then skewed the chicken. Repeat the process until the skewer is packed.
Grilled Options:
1) Barbque
2) Bake in oven
3) Use an electric grill
4) Use grilled pan on stovetop (used the same in this recipe)

To grill on the stovetop, place the griller and heat it up! add oil and evenly brush it up. Place the chicken skewers and cook on medium heat from all sides. Initially cook on high heat and as the chicken starts to cook then turn the heat to medium. In this way, the chicken pores will be seized and it will not release water and give your perfect grilled taste on the stovetop.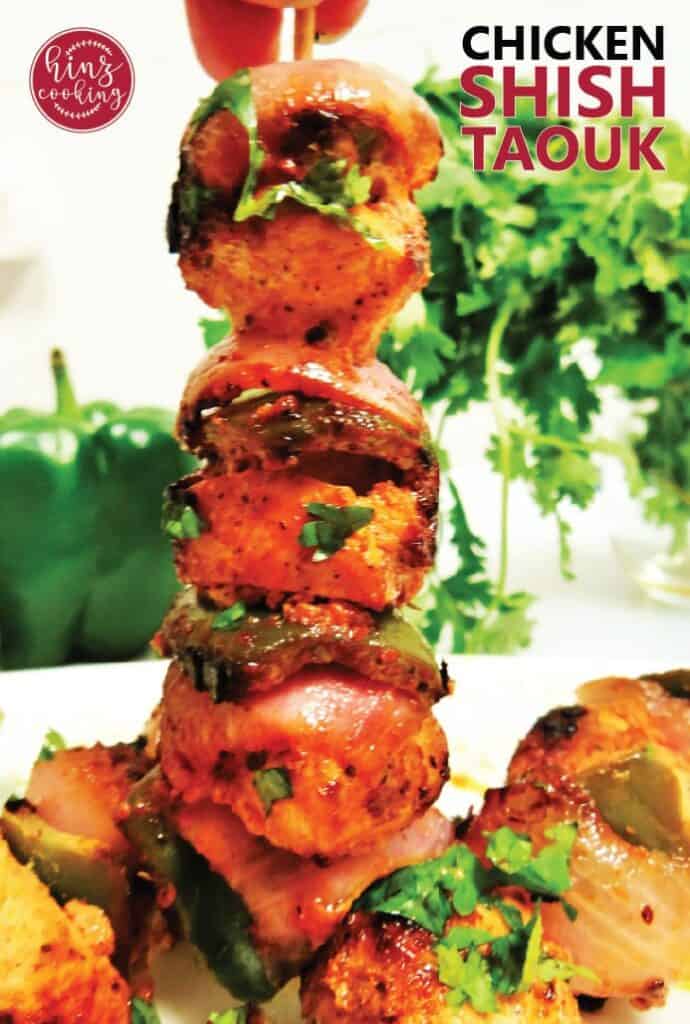 10 Tips to Make Restaurant Style
Use chicken breast as it's more tender and juicy. Don't use chicken with skin. I personally prefer fresh chicken rather using frozen.
Fresh lemon juice will work as a catalyst that will help to accelerate the chicken tendering process.
Tomato puree/paste will give you the vibrant red color that's a signature of shish tawook.
Make sure the marinade should not be watery.
To avoid watery marination, use thick yogurt.
Make sure to marinate the chicken for a long time. (8 hrs maxiumum, 3 hrs minimum) to get the best result.
Carefully add oil to cook the chicken as too much oil can mess the chicken flavor.
Never cook chicken on extremely high heat. Initially cook on high and as the chicken starts to change color or make the crust then turn the heat to medium.
Avoid covering the chicken while cooking.
Soak the wooden skewers for ½ an hour before cooking.
Frequently Asked Questions
What's the difference between shish kebab and Tawook?
Shish kebab is famous as shashlik in the middle eastern region prepare with meat while shish taouk prepare with chicken brochette. Both are skewed to prepare. Seasoning, spices, and methods of preparation are different.
Is it Healthy?
Yes, it is! It's a low carb recipe.
What To Serve with Shish Tawook?
Normally people eat in a form of a shawarma sandwich using pita bread. If you are serving shish tawook as a sandwich then also add oven baked fries, coleslaw in a platter.
You can also serve with Fattoush, tabbouleh, tahini sauce, hummus, Lebanese toum.
Serving with butter garlic rice makes a perfect combo.
Can we Store it?
Yes, you can store it in the refrigerator for 3 days (after cooking).
If you want to freeze it then freeze the chicken in an airtight container before cooking for one month.
Related Chicken Recipes:
Chicken Kabsa | Al Baik Chicken | Oven Baked Chicken | Honey Garlic Chicken Breast | Creamy Chicken Breast | Sofiyani Biryani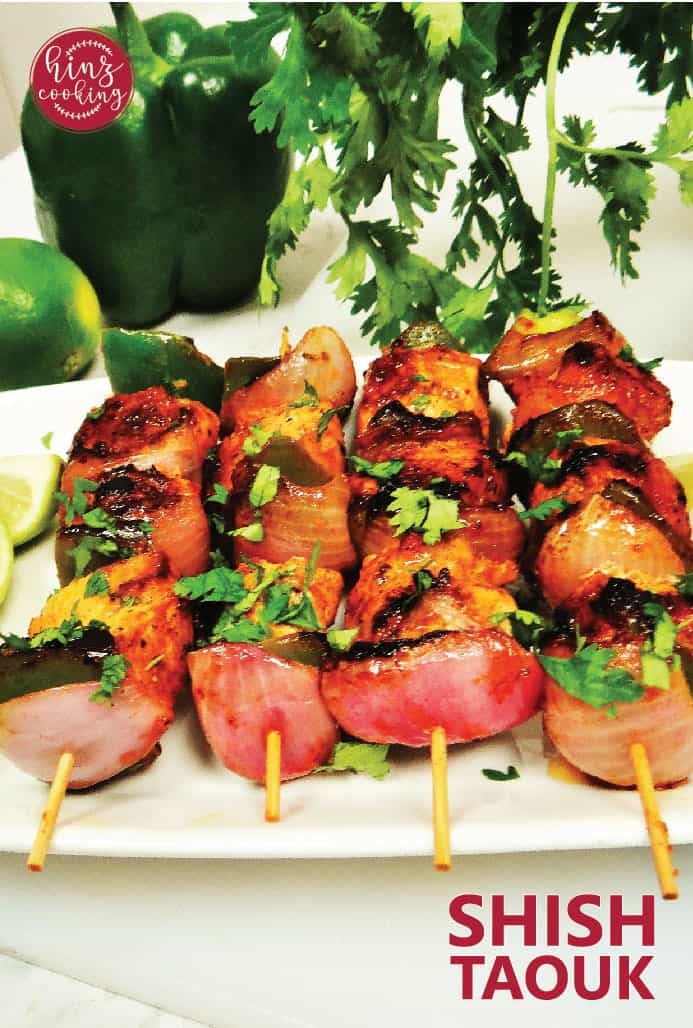 Recipe Video
Watch - How Did I Make It?

It's easy to prepare 'shish tawook' at home kitchen. Here I captured the recipe step by step that might help you if you are trying first time. If you haven't tried this recipe then give it a try and you will love the taste and grilled scrumptiousness of this recipe. My entire kitchen was full of chicken grilling aroma.
Bon appetit! Let's watch the video!
Shish Tawook Recipe Video
Shish Tawook - Lebanese Chicken Skewer Kabobs
Restaurant-style authentic Chicken Shish Tawook recipe for dinner. Lebanese chicken skewer kabob (Shish Taouk) recipe that anyone can try.
Materials
Chicken Breast - 200 gms

12 to 15 Pieces (2 inches)

For Marination:

Yogurt - ½ Cup

Garlic

crushed - 1 Tsp

Tomato Paste - 1 Tbsp

Mustard Paste - 1 Tsp

Fresh Lemon Juice - 2 Tsp

Olive Oil - 1 Tbsp

Salt - ½ Tsp

Paprika - 1 Tsp

Oregano - ½ Tsp

Black Pepper - ½ Tsp

Ginger Powder - ½ Tsp

Cinnamon Powder - ⅓ Tsp

Wooden skewer - 4

soaked in water

Oil for shallow frying - 1 Tbsp

Cilantro for garnish
Instructions
Cut chicken breast into 2" pieces.

In a bowl, add all the marination ingredients.

Mix well.

Add chicken and coat well with marination.

Cover and marinate for about 4 hours. Overnight is recommended.

After 4 hours, Thread the chicken in a skewer with bell pepper and onion cubes.

Shallow fry in a grilled pan on the stovetop.

Cook chicken for about 15 to 20 minutes until gets evenly brown color from all sides.

Garnish with freshly chopped cilantro.
Notes
Chicken breast is recommended to make tender shish tawook.
Avoid using frozen chicken pieces. Fresh chicken brings the best taste.
Lemon will work as a tenderizer in this recipe.
Give it a long marination time to make a soft, juicy and tender chicken.
Tomato paste and paprika will give a signature red color.
Make sure the yogurt is not watery.
Manage cooking temperature to fully cook the chicken on a grilled pan. 
Initially cook chicken on a high temperature then turn the heat to medium to properly cook the chicken from inside. 
Don't cover the chicken otherwise, it will release water. 
Nutrition

Share this recipe with your family and friends. It would be great if you leave your feedback in the comment box. If you make this recipe at home then share a picture with the hashtag #hinzcooking