Looking homemade Nihari Masala Powder Recipe to make restaurant-style nihari. People living in South Asia especially from India, Pakistan, Bangladesh love the taste of street style nihari with tandoori roti.
If you are a foodie then you must be familiar with the good taste of 'Nihari'! that can't be prepared without adding the right combination of 'Nihari Masala' powder.
Today, I am sharing a simple and easy Nihari powder recipe. So if you are looking for how to make nihari masala at home. Watch the recipe video or follow this post to make restaurant-style nihari at home in your kitchen.
SEE ALSO: Seekh Kabab Masala Powder Recipe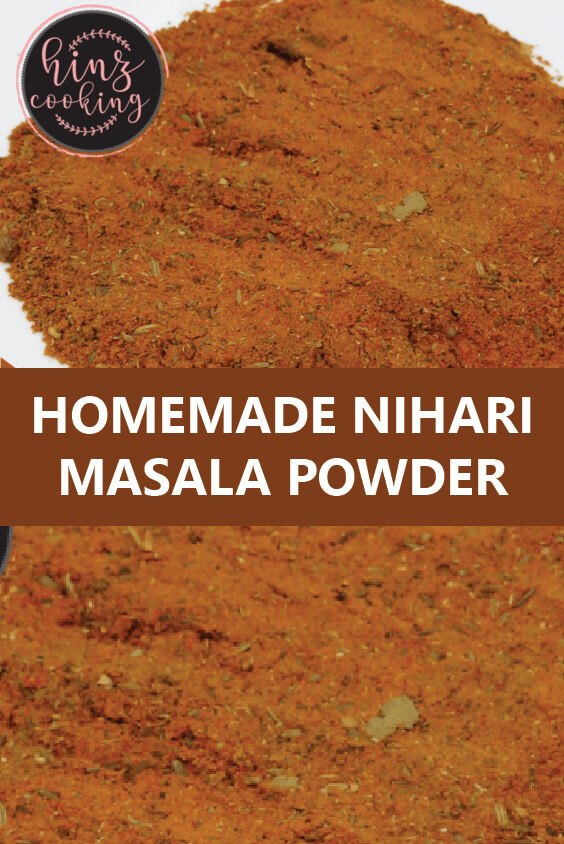 Many people think that making any type of masala powder at home is a difficult process as it seems time-consuming, but believe me, it's simple, easy and quick way to prepare masala at home. I can call it 5 minutes recipes as you only need to assemble the ingredients and combine it with proportion.
At Hinz cooking, I have already shared 'Garam Masala Powder recipe' and this one is the extension of nihari masala by adding few more ingredients. In fact, if you have a good garam masala powder then you can also make homemade nihari masala by adding saunth (dry ginger).
Nihari can be prepared with chicken, mutton, beef, many people prepare it with camel meat.
You can use this nihari masala in any type of nihari that you make.
How to Make Nihari Masala Powder at Home
Preparation time: 5 minutes
Difficulty: Beginners
Language: Urdu/Hindi
Watch Time 3:02
Serving - 700 Gms Chicken/Mutton
Preparation of Nihari Masala
Bay leaves - 8
Cinnamon - 6-6 3"
Nutmeg - ½ piece
Star Anise - 2
Green Cardamom - 20
Black pepper - 40
Cloves - 25
Dry Ginger - Saunth 6" piece
Fennel Seeds - 1.5 Tbsp
Coriander Seed - 3 Tsp
Black Cumin - 1 Tsp
Cumin Seeds - 2 Tsp
Method:
Combine and grind all ingredients to make a powder in grinder.
Now in a separate bowl add:
Red Chili Powder - 2 Tsp
Turmeric Powder - 1.5 Tsp
Coriander Powder - 1 Tsp
Grinded Masala - 2 Tbsp
Mix well...
Nihari Masala is ready to add in Nihari
It's a simple, easy and traditional style nihari masala powder recipe. You can easily prepare and store it in your kitchen. Whenever you make nihari add this masala and enjoy the restaurant-style nihari at home.
Follow the recipe video available in Hindi/Urdu for quick understanding.
You can also share this recipe with your family and friends.
It would be great if you leave your feedback in the comment box. You can also share your suggestions. If you make this recipe then share a picture with me on Facebook 🙂
Happy eating and Happy watching!
Try it!! And Join Us
It's a quick and easy recipe of 'orange pound cake' that you can easily make at home and serve your family and friends. You can join our Facebook group of foodies to interact with other foodies!! At Hinz cooking, you can find more recipes related to breakfast, lunch, dinner, and teatime. Explore recipe collection to get your desired recipes.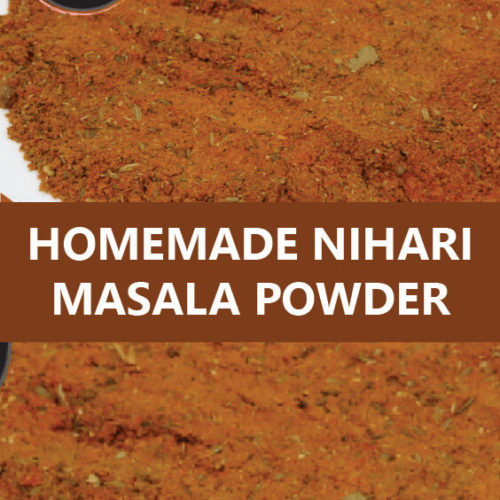 Print
Nihari Masala Powder- How to Make Nihari Masala at Home
Simple and easy recipe to prepare Nihari masala powder. Looking at how to make nihari masala at home then this recipe help to make restaurant-style nihari.
Materials
Bay leaves – 8

Cinnamon – 6-6 3″

Nutmeg – ½ piece

Star Anise – 2

Green Cardamom – 20

Black pepper – 40

Cloves

– 25

Dry Ginger – Saunth 6″ piece

Fennel Seeds – 1.5 Tbsp

Coriander Seed – 3 Tsp

Black Cumin – 1 Tsp

Cumin Seeds – 2 Tsp
Instructions
Method:

Combine and grind all ingredients to make a powder in grinder.

Now in a separate bowl add:

Red Chili Powder – 2 Tsp

Turmeric Powder – 1.5 Tsp

Coriander Powder – 1 Tsp

Grinded Masala – 2 Tbsp

Mix well…

Nihari Masala Powder is ready to add in Nihari