Seekh Kabab Masala Recipe - (Kabab Masala Powder) - سیخ کباب مصالحہ | Today sharing popular kabab masala recipe that you normally eat as street food the famous seekh kabab. This masala recipe will help you to create the perfect taste.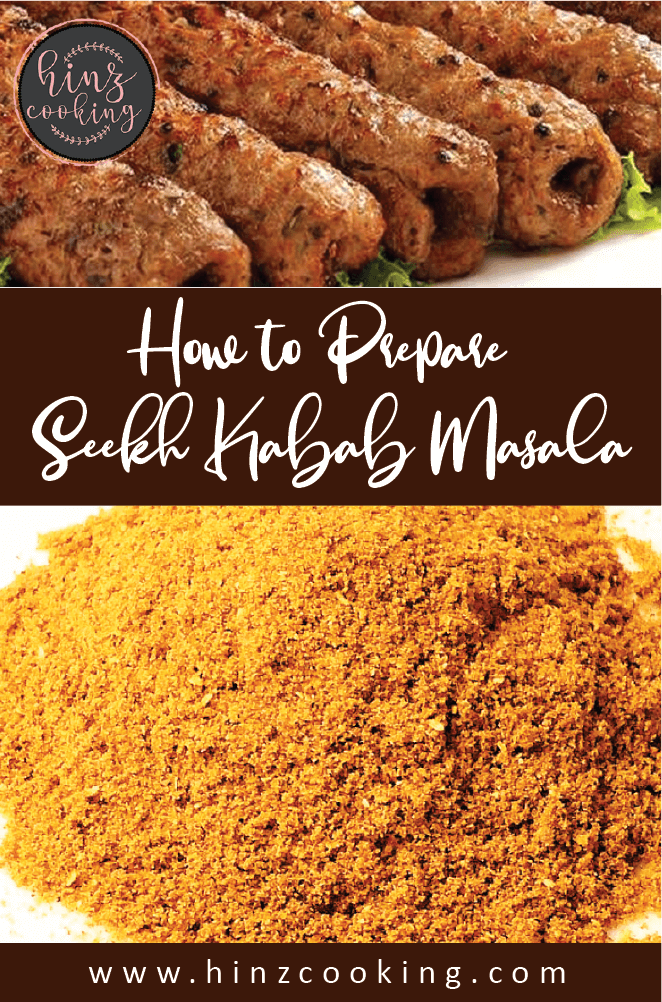 Jump to:
What is Seekh Kabab Masala
Seekh kabab is the famous recipe of the subcontinent that people love to eat. It is one of the most popular barbeque dishes. Perfect masala ingredients play an important role to create the perfect seekh kabab so here is the recipe is taken from traditional seekh kabab house. If you want to create the same taste then use this masala.
To make a restaurant-style seekh kabab make sure the mince should be well ground, use the best masala combination according to your meat, and always use raw papaya (kacha pappita) to make juicy and soft kabab. If you don't have kacha pappita (raw papaya ) in reach then use meat tenderizer as an option.
Beginners normally want to know 'how to make seekh kabab masala' powder so try this easy recipe. You can make it in a big quantity and store it for future use.
So let's move into the Hinz kitchen and prepare this 'seekh kabab masala powder recipe'.
Ingredients
Cumin Seeds - 1 teaspoon (Zeera زیرہ)
Coriander Seeds - ½ Tsp (Sabut Dhania - ثابت دھنیا)
Carom Seeds (Ajwain) - ½ Tsp
Fennel - 1 teaspoon (Saunf - سونف)
All Spice - 1 tablespoon (Kabab Chini - کباب چینی)
Star Anise - 1 piece (Badyan ka Phool - بادیان)
Black Pepper - 2- (Kali Mirch - كالی مرچ)
Cloves - 7 (laung - لونگ)
Cinnamon - 3 inches (Darchini- دارچینی)
Bay leaf - 1 (Taiz Patta - تیز پات)
Green Cardamom - 8 (Hari Ilaichi - الائچی)
Black Cardamom - 2 (Bari Illaichi - بڑی الائچی)
Nutmeg - ½ piece (Jayfal - جائفل)
Mace - ½ teaspoon (Javitri - جاوتری)
Salt - ⅓ Tsp
Black Salt - ⅓ teaspoon (Kala Namak - كالا نمک)
Red Chili Powder - 1 teaspoon (Pissi Laal Mirch - سرخ مرچ)
Turmeric Powder 1 teaspoon (Haldi - ہلدی)
Garlic Powder - 1 teaspoon (Lahsun Powder - لہسن )
Ginger Powder - ½ teaspoon (Adrak Powder - سونٹھ)
Mango Powder - ⅓ teaspoon (Amchoor - آمچور)
How to Make
In a Pan, toast cumin seeds (zeera) and Coriander seeds (sabut dhania) on low heat until it gets aromatic.
Now put all the ingredients in a grinder and grind to make a fine powder.
Seekh kabab masala is ready to use. Store in a jar to use multiple times.
توے پر زیرہ اور ثابت دھنیا ہلکی آنچ پر سیک لیں۔ تمام اجزا کو گراینڈر میں ڈال کر اچھی طرح پیس لیں
RECOMMENDED:
SEE ALSO:
It's a simple kabab masala powder recipe that you can prepare at your home and believe me it will add quality taste to your kabab similar to the taste of restaurant-style seekh kabab. It's recommended to use homemade masala if you want a traditional and unique taste in your Indian/Pakistani food. I wish it turns the best result in your cooking.
Thanks for stopping at Hinz Cooking!! Share with your family and friends.
You can join our Facebook group of foodies to interact with other foodies!! At Hinz cooking, you can find more recipes related to breakfast, lunch, dinner, and teatime. Explore recipe collection to get your desired recipes.

Seekh Kabab Masala Recipe
Sharing simple and easy seekh kabab masala recipe that will help you to make hotel style quick seekh kabab marination in home kitchen. Kabab masala powder..
Ingredients
Cumin Seeds – 1 Tsp

Zeera زیرہ

Coriander Seeds – ½ Tsp

Sabut Dhania – ثابت دھنیا

Carom Seeds (Ajwai– ½ Tsp

Fennel – 1 Tsp

Saunf – سونف

All Spice – 1 Tbsp

Kabab Chini – کباب چینی

Star Anise – 1 piece

Badyan ka Phool – بادیان

Black Pepper – 2-

Kali Mirch – كالی مرچ

Cloves

– 7

laung – لونگ

Cinnamon – 3 inches

Darchini- دارچینی

Bay leaf – 1

Taiz Patta – تیز پات

Green Cardamom – 8

Hari Ilaichi – الائچی

Black Cardamom – 2

Bari Illaichi – بڑی الائچی

Nutmeg – ½ piece

Jayfal – جائفل

Mace – ½ Tsp

Javitri – جاوتری

Salt – ⅓ Tsp

Black Salt – ⅓ Tsp

Kala Namak – كالا نمک

Red Chili Powder – 1 Tsp

Pissi Laal Mirch – سرخ مرچ

Turmeric Powder 1 Tsp

Haldi – ہلدی

Garlic Powder – 1 Tsp

Lahsun Powder – لہسن

Ginger Powder – ½ Tsp

Adrak Powder – سونٹھ

Mango Powder – ⅓ Tsp

Amchoor – آمچور
Instructions
In a Pan, toast cumin seeds (zeerand Coriander seeds (sabut dhanion low heat until it gets aromatic.

Now put all the ingredients in a grinder and grind to make a fine powder.

Seekh kabab masala is ready to use. Store in a jar to use multiple times.

توے پر زیرہ اور ثابت دھنیا ہلکی آنچ پر سیک لیں۔ تمام اجزا کو گراینڈر میں ڈال کر اچھی طرح پیس لیں
Nutrition
Serving:
50
gms
|
Calories:
82
kcal