If you like dates rolled in nuts then this Date roll recipe is perfect for you! It will give you the key to energy as it's fully packed with healthy nuts, coconut, and sesame. Prepared within 10 minutes. It's an old fashioned date nut roll that is gluten-free, eggless, and without artificial sugar.
Love to serve in Ramadan iftar, and suhoor and always prefer to pack in kid's lunch boxes.
Jump to:
What is Date Roll?
It's a traditional-style Date roll recipe prepared with homemade Medjool date paste and nuts that will give you instant energy and keep you full for a long time. It's a form of famous date candy or toffee that kids love to eat.
People also know this recipe with date and nut roll, date burfi, date salami, or khajoor dry fruit roll and I love to call it almond and coconut date rolls. It's soft and chewy loaded with a sweet and nutty flavor.
Whenever it comes to finding recipes for dessert snacks then dates roll comes to mind as it can be prepared within few minutes and easily stored in the refrigerator for later use. These energy bites or rolls are perfect to add as sweet party food and you can always make it ahead of time. My kid is picky to eat dates so I make these date and nut rolls and he loves to eat that's a sigh of relief for me as a mom. So if you are looking best date recipe then try this!

Ramadan iftar is incomplete without dates so it's the best recipe that you can make. Literally, my iftar table is incomplete without date shake and date rolls.
Why Does This Recipe Works?
The first reason that makes it super special, it's full of healthy nutrients and prepare within a few minutes. Easy to eat and store.
If you are on diet and feeling low then it's the best recipe to instantly boost your energy level.
Loaded with natural sweetness without adding any other artificial sweet content. It's portable and easy to eat even if you are driving and feeling sleepy.
What Type of Dates to Use?
Making date roll is an easy and simple process but the selection of dates is important to make good date rolls. I personally seek soft and chewy dates that can form a good pulpy paste. Large, plump, and dark Medjool dates are good to make the date paste and you know why I love it because it tastes like caramel that makes the right reason to prepare date rolls. Alternatively, Deglet Noor, Khadrawi, or Halawi are good options and people love to eat it as a snack date. All these dates are easily available in nearby stores so you can easily find them.
What Type of Tools to Use?
Dates are sticky and luscious in texture so it's important to use the right utensils to make this recipe otherwise it will give hard time. Use a nonstick pan and always treat the date paste with a rubber spatula as it will give an easy time to roll it during cooking. Use a plastic tray mold or sheet to place the hot date paste to cut into pieces.
Ingredients & Substitutions
Date Paste: used plump Medjol dates, removed seeds and finely grind them to make a date paste.
Nuts: Roasted almonds and pistachios folded in sauteed date paste. Cashews, walnuts, and pine seeds can also be used.
Sesame: White sesame seeds are used. After roasting, it will add a mild crunch with a nutty taste.
Coconut: Desiccated coconut will add more flavor and make it super healthy to eat.
Butter/Ghee: Used to saute date paste that will add softness and lubrication to date rolls.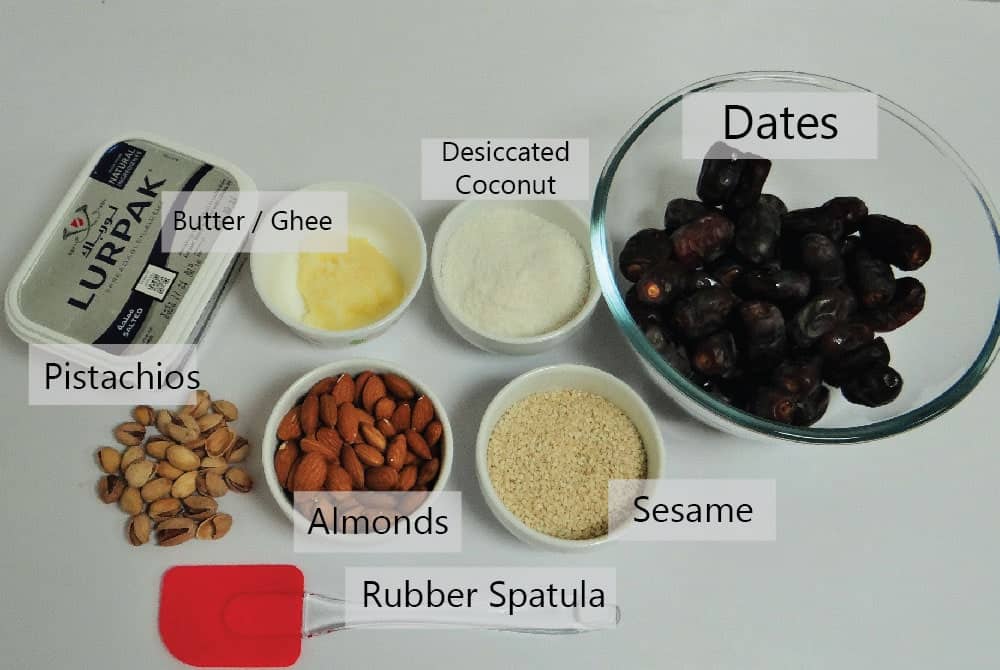 It's an easy date nut roll recipe that you can make at home. Full of nutrients, fibre, and antioxidants that we really need on daily basis. It's advisable to have 2 to 3 date rolls in a day to stay healthy and productive.
How to Make Date Roll
First, start with roasting dry nuts. Add coarsely ground almonds and sesame in a preheated pan and roast on low heat. Keep stirring during roasting. Try to roast for a minute! This step will add a crunch in date rolls.
Next, remove seed from dates and make a paste using grinder or you can use ready made date paste. In a pan, add ghee or butter and add date paste. Saute for few minutes. Make sure to fold the date paste during saute. Then add desiccated coconut and mix well using rubber spatula.
Add roasted nuts and cook for 1 or 2 minutes on low medium heat. Keep stirring and fold the dates to mix all ingredients.
Place the dates on a plastic cling film as the dates are sticky and cling wrap will make it easy to cut the rolls. Set it with rubber spatula. Cool it down and cut into rolls.
Date rolls are ready to serve. No egg, no sugar added to make this recipe.
Date Roll Video

It's my pleasure if you are making this date roll recipe. Don't forget to share your picture with me so I can share it on our Facebook group of foodies to interact with other foodies!! If you have any questions then leave a comment. Share your picture on Facebook or Instagram with #hinzcooking.
Easy Tips
Avoid using hard, old, dehydrated, and wrinkled dates.
You can also use ready-made date paste to make this recipe.
Don't use the nut powder. Coarsely ground the nuts to add in recipe.
Slightly roast the nuts before adding in the paste as it will add a crunchy texture that makes a good combination with sticky dates.
Ground pistachios will add color and flavor to this recipe.
Use butter to add lubrication and gloss to date rolls.
Add variations in nuts according to your taste.
How To Store
It's easy to store date rolls in several ways. You can simply keep it on the kitchen counter for 3 to 4 days at normal room temperature. I prefer to store it in refrigerator and it lasts for about 2 to 3 weeks. If you want to store longer then store in freezer and it will stay for about 2 months. Don't store for longer period as it's not carrying any food preservatives.
Place the date rolls in any plastic container or bag and store them accordingly. Keep it at some distance to avoid cluttering.
SEE ALSO: Date Milkshake
How To Use
Date roll recipe is easy to make at home and it always helps me to make variety of date snacks. Sometimes, I use it to make date shake. It can also be used to make cookies, muffins, and brownies. I love to have date rolls for breakfast with a hot glass of milk.
Q & A
What type of dry nuts can be used in date rolls?
You can use coarsely ground nuts as it add crunch in date rolls. Don't add nuts powder as it will disappear in date paste. Almonds, cashews, pine seeds, pistachios, walnuts, and peanuts can be used.
What to do if date rolls are hard?
If it's hard then add little butter and saute on preheated pan. If it's extremely hard then add a teaspoon of milk to make it soft. Normally date rolls don't get hard if you are using plump dates. If dates are hard then soak them in water before use.
How to fix soft or mush date rolls?
You can easily fix the mushy date rolls by adding more nuts and increasing the quantity of desiccated coconut.
Are date rolls healthy?
As we all know dates are healthy and full of dietary fiber that we really need on daily basis. It's gluten-free and contains natural sugar without fats and cholesterol. Best to have in breakfast or use as a mouth sweetener after lunch or dinner. One of the healthy and best sweet snacks that you can eat before exercise.
What's the taste of date rolls?
Date rolls are nutty and sweet in flavor. Roasted dry nuts will add a crunch that makes it delicious and good for munching.
Boost your dates intake with Dates Milkshake
You Might Also Like
Date Roll Recipe
If you like dates rolled in nuts then this Date roll recipe is perfect for you! It will give you the key to energy as it's fully packed with healthy nuts, coconut, and sesame. Prepared within 10 minutes. It's an old fashioned date nut roll that is gluten-free, eggless, and without artificial sugar.
Equipment
1 Rubber Spatula
Ingredients
500

g

Dates

¼

cup

Almonds

coarsely ground

1

tablespoon

Desiccated coconut

1

tablespoon

sesame

2

teaspoon

Pistachios

ground

½

tablespoon

Butter/Ghee
Instructions
Deseed the dates and make a fine paste in grinder.

Roast almonds and sesame on low heat.

In a preheated pan, add butter or ghee.

Add date paste and saute for few minutes folding with rubber spatula.

Add desiccated coconut and roasted almonds and sesame.

Saute to mix all ingredients on low heat for about 1 minute.

Now place the hot date paste on plastic wrap to avoid sticking.

Set the date paste with rubber spatula to form a square.

Cool it down and cut it into desired shape.

Sprinkle pistachios to make it tempting.

Date rolls are ready to serve!
Notes
Always use plump and soft dates to make date paste.
Medjool dates are good to make this recipe.
Use variety of nuts as per your taste.
Always use roasted nut as it add crunch in date rolls and gives you same flavor as we take from store.
Date rolls are good to have in natural flavor. Don't add artifical flavor.
Almonds and pistachios are most recommended nuts for this recipe. Desiccated coconut and sesame are optional.
Nutrition
Serving:
50
g
|
Calories:
189
kcal