Jump to Recipe
Orange Pound Cake - Easy Orange Sponge Cake Recipe Without Oven: Today making a sponge cake using fresh orange juice and orange zest without oven. People living in India, Pakistan & Bangladesh love to make a cake without an oven as it's easy and quick. So I made this cake on the stovetop. You can also make the same in the oven. It's a perfect cake to make a day! If you like oranges then must this trending cake recipe at home as people loved it to have with evening tea or after meals.
When you will make this recipe, you will tempt with aroma before eating. It's the best blend of orange and flour that will keep you filled for a long time. It's a quick cake recipe as I cooked it on the stovetop. Check out video recipe!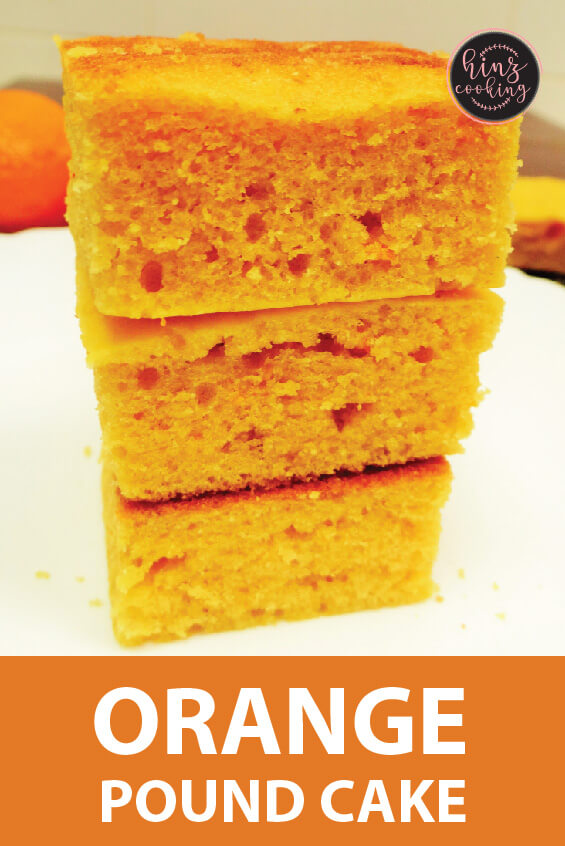 I am making this fragrant and moist orange cake from scratch so let's make it step by step without using the cake mix. It's the best choice to use seasonal oranges in a form of cake and serve in breakfast, teatime or as a dessert with your meals. Also a best gift option to share with friends and family.
In this orange pound cake recipe, I mainly used fresh orange juice and zest to give it an orange flavor that makes it different from regular sponge cake. It's moist, chewy and fragrant.
You Can Also Try:
5 Tips to Make Perfect Orange Pound Cake
Whenever you make this cake then use fresh orange juice to make it tastier and scrumptious.
Use the proper quantity of ingredients to make a perfectly moist cake.
When you add orange zest then make sure to peel the upper skin of an orange. Avoid the white part of orange skin as it's bitter in taste.
Use the proper quantity of orange juice in the cake. Make sure the cake mixture is semi-thick.
If you are making on the stovetop then make sure to manage the temperature of your pan to rise a perfect cake. Have a look in recipe instructions to manage stovetop temperature.
NEXT RECIPE: Mughlai Egg Paratha with Cheese for Breakfast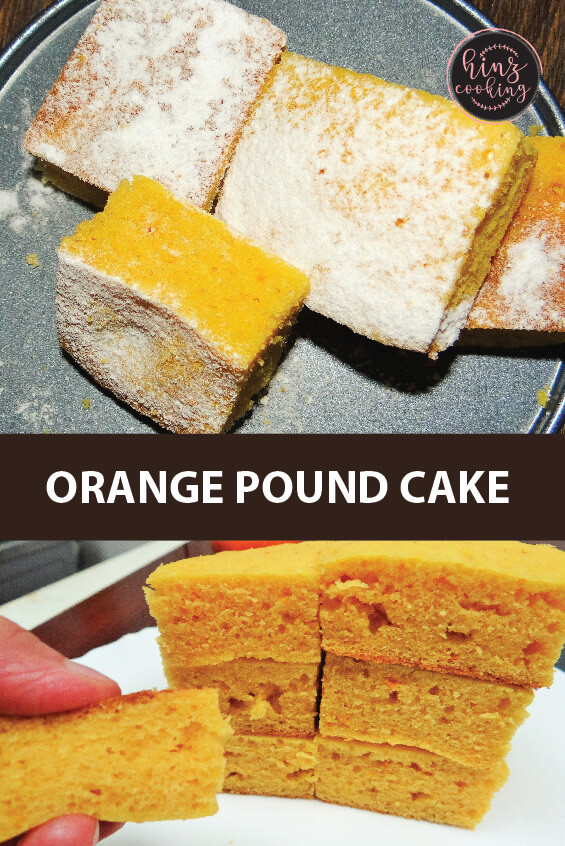 Orange Pound Cake Recipe Video (Sponge Cake)
So let's move to Hinz Kitchen and start making this mouthwatering and aromatic 'orange pound cake' step by step in an easy way. Watch the recipe video so it will be easy for beginners to follow the quick steps.
Happy watching!!
Orange Pound Cake Recipe Card
Ingredients:
Fresh orange juice - ½ Cup
Orange Zest - 1 Tsp
Egg - 1
Powdered Sugar - 1 Cup
Baking powder - ½ Tsp
Baking soda - ⅓ Tsp
Cooking Oil - 1 Tbsp
Vanilla Essence - 1 Tsp
Yellow Food Color (Optional) - 1 Pinch
All Purpose Flour (Maida) - 1 Cup
Method:
Preparation of Cake Mixture: In a bowl, add powdered sugar and egg. Beat it well until it gets fluffy
Now add baking powder, baking soda, vanilla essence and oil.
Also, add orange juice.
Mix well using a whisk.
Now sift the all-purpose flour and add in cake mixture.
Fold the mixture using the whisk in one direction (clockwise).
Now add orange zest and mix again.
Grease the cake pan and place butter paper.
Pour the cake mixture in cake pan.
Set up the Stove Top Pan to Bake the Cake:
Preheat the big pan on the stovetop on high heat.
Place any stand to maintain the height from the bottom
Place the cake pan in the middle of the pan over the stand.
Now cover the pan.
Initially keep the temperature high for 5 minutes then turn to low - medium for 30 minutes.
To Bake in Oven: Preheat the oven and bake the cake on 180 degrees or Gas mark 4 for about 25 to 30 minutes.
After 30 minutes, check the cake using a knife or skewer. If it comes out clean then the cake is ready.
Take it out and cool it down before serving.
Now sprinkle powdered sugar over the top to make it more tempting and scrumptious.
Cut the cake and serve.
Enjoy and have a lovely eating time!
Share with your family and friends. It would be great if you leave your feedback in the comment box. You can also share your suggestions. If you make this recipe then share a picture with me on Facebook 🙂
Happy eating and Happy watching!
Try it!! And Join Us
It's a quick and easy recipe of 'orange pound cake' that you can easily make at home and serve your family and friends. You can join our Facebook group of foodies to interact with other foodies!! At Hinz cooking, you can find more recipes related to breakfast, lunch, dinner, and teatime. Explore recipe collection to get your desired recipes.
Related Recipes:

Orange Pound Cake - Easy Orange Sponge Cake Recipe Without Oven
Easy 'orange pound cake' recipe made with fresh orange juice and orange zest. Moist orange sponge cake recipe without oven. Must try! its simple and quick..
Materials
Fresh orange juice – ½ Cup

Orange Zest – 1 Tsp

Egg – 1

Powdered Sugar – 1 Cup

Baking powder – ½ Tsp

Baking soda – ⅓ Tsp

Cooking Oil – 1 Tbsp

Vanilla Essence – 1 Tsp

Yellow Food Color

Optional – 1 Pinch

All Purpose Flour

Maida – 1 Cup
Instructions
Preparation of Cake Mixture: In a bowl, add powdered sugar and egg. Beat it well until it gets fluffy

Now add baking powder, baking soda, vanilla essence and oil.

Also, add orange juice.

Mix well using a whisk.

Now sift the all-purpose flour and add in cake mixture.

Fold the mixture using the whisk in one direction (clockwise).

Now add orange zest and mix again.

Grease the cake pan and place butter paper.

Pour the cake mixture in cake pan.

Set up the Stove Top Pan to Bake the Cake:

Preheat the big pan on the stovetop on high heat.

Place any stand to maintain the height from the bottom

Place the cake pan in the middle of the pan over the stand.

Now cover the pan.

Initially keep the temperature high for 5 minutes then turn to low – medium for 30 minutes.

To Bake in Oven: Preheat the oven and bake the cake on 180 degrees or Gas mark 4 for about 25 to 30 minutes.

After 30 minutes, check the cake using a knife or skewer. If it comes out clean then the cake is ready.

Take it out and cool it down before serving.

Now sprinkle powdered sugar over the top to make it more tempting and scrumptious.

Cut the cake and serve