Here is a 5-minute egg mayo sandwich recipe that you can call an egg salad sandwich prepared with hard boiled eggs. Super easy and portable idea for busy moms and dads to make for breakfast.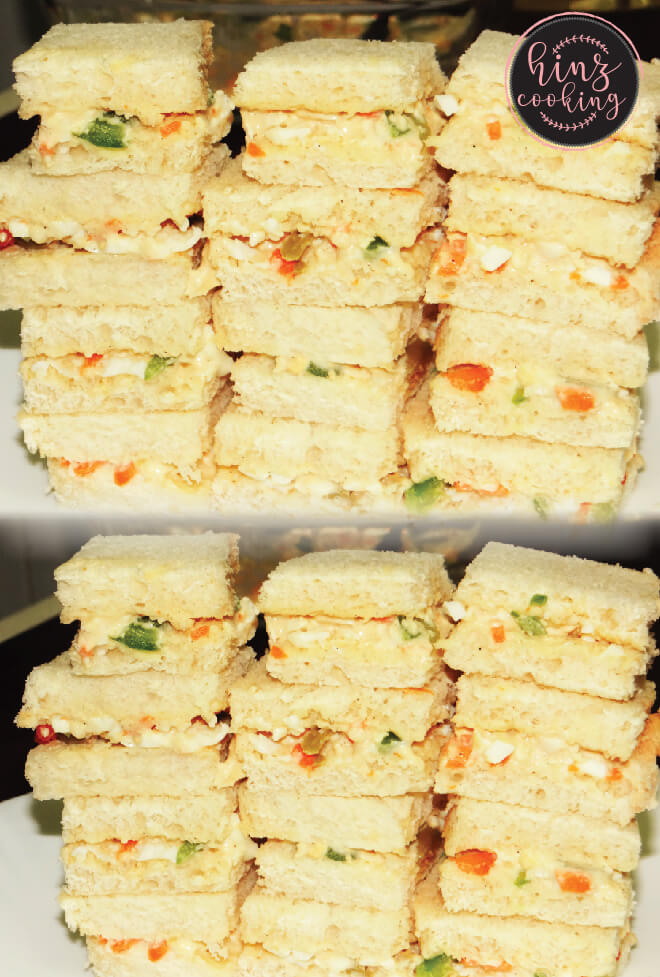 If you are looking at how to make egg mayo sandwich without cheese then here is a quick recipe for you guys to make with a handful of ingredients from your pantry. Believe me, it's insanely delicious and ideal for a tiffin box.
SEE ALSO: Chicken Sandwich | Bread Pizza Sandwich 
Jump to:
Must try this recipe and serve it with hot coffee or homemade cappuccino. I personally love to have this sandwich with chilled dalgona coffee as it keeps me super productive throughout the day.
On weekdays when the morning is so fast then I make this quick sandwich and my family loved it. Sometimes I try with evening tea as it nourishes and keeps filling for long hours. I make it a bite size sandwich as it's easy for picky kids. Many kids love to have eating ideas with bite size options and my kid is one of them so I make it bite-size that finishes in no time.
What is Egg Mayo Sandwich?
It's a classical style egg mayo sandwich prepared with a combination of mashed boiled eggs and mayonnaise spiced with salt and pepper. Apply it as a spread on fresh bread. You can also add some veggies or other options to make it more nutritious and healthy. I used chunks of carrots, capsicum, and olives which makes it super healthy and nutritious.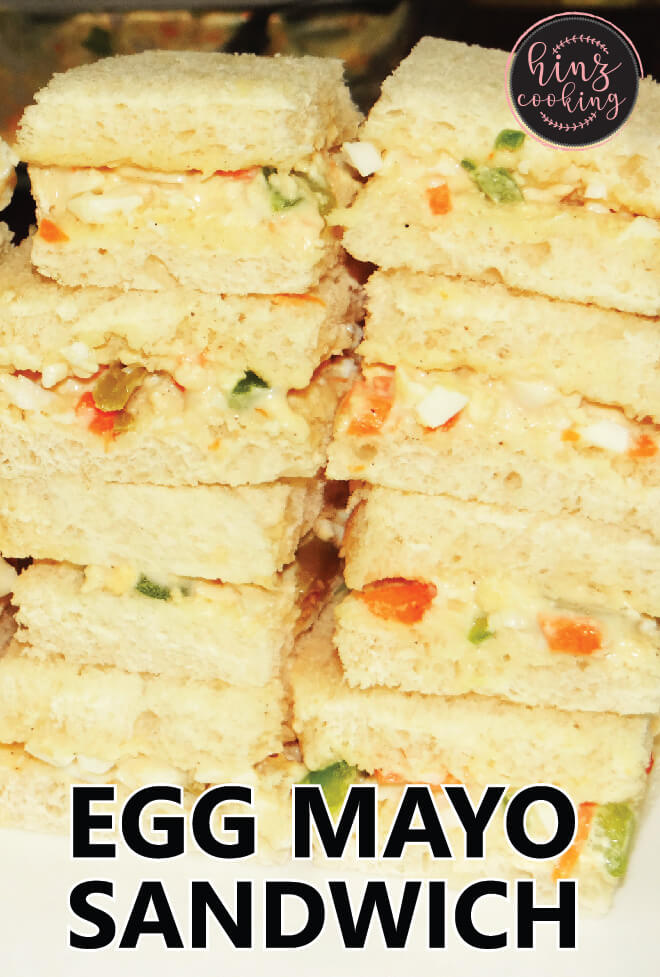 Hard-boiled eggs mixed with mayonnaise with the addition of salt and pepper make it super tasty and it's good to have it in the morning as it gives you the quality protein and good cholesterol (HDL).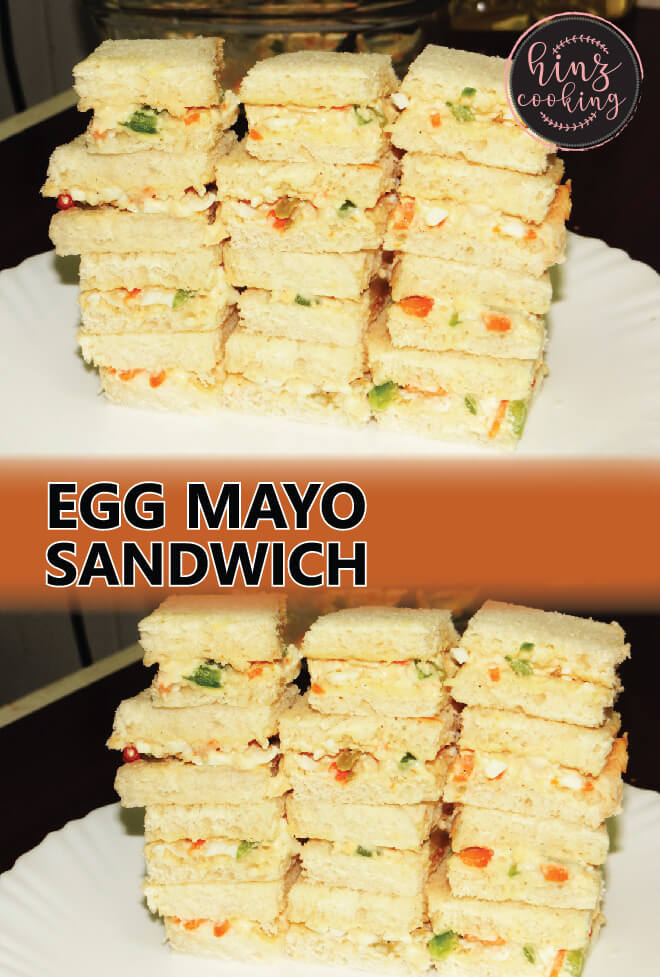 How to Make Egg Mayo Sandwich
Prepare Egg Mayo Paste
First, make hard boil eggs then peel them and mashed properly. Season with salt and black pepper and give it a good mix. Add small chunks of carrots, capsicum and green olives to make it colorful and healthy. Now add good protein mayo with eggs and mix it well to combine everything in a fine paste.
Stuffing
Place the bread in the microwave for 2 minutes to make it extremely soft and fresh. Properly place the egg paste in the middle of the bread slices and evenly spread it all around. Cover the bread with another slice and cut it into 4 portions to make bite size.
Egg Mayo Sandwich Video
Start making this quick, easy, and delicious 'egg mayo sandwich' for breakfast. Watch the recipe video so it will be easy for beginners to follow the quick steps.

Easy Tips
Microwave the bread slices for 1 minute to make it soft and chewy.
If you are taking 1 boiled egg then add 1 tablespoon of mayo to make a spread.
You can also add veggies, pepperoni, and boiled chicken to make it tastier.
Cover the sandwich otherwise, it will be tight and will not give you a good taste.
You can grill the sandwich after making it or serve it cold depending on your taste.
Serving
These sandwiches are good to have a solo just pair up with Hot Coffee, Cappuccino or a chilled dalgona. If you want to share in a platter then add potato wedges or french fries as they make the best combo.
Q & A
How long can egg mayo sandwich last?
You can make the egg mayo spread store in the fridge for 1 or 2 days. I don't recommend storing the eggs for long time without preservatives otherwise it will upset your digestive system. Make sure to tightly cover in jar.
If you already make the sandwiches then try to consume with 5 to 6 hours otherwise it will be hard or soggy depending on your surrounding temperature.
How to Serve Egg Mayo Sandwich?
You can serve it cold! I personally microwave the bread slices for 1 minute. In this way, bread becomes soft and chewy. Spread the egg mayo paste and serve.
Is it healthy to eat with mayo?
If you are health conscious then try to incorporate healthy mayo options in your diet. I personally prefer to have olive and canola mayo as a healthy option.
Share this recipe with your family and friends. It would be great if you leave your feedback in the comment box. If you make this recipe at home then share a picture with the hashtag #hinzcooking
Related Recipes: Tea Time Biscuit Recipe | Oreo Biscuit Cake Recipe
Chicken Cheese Sandwich | Pan Cake Recipe
You Might Like This
Egg Mayo Sandwich
Here is a 5-minute egg mayo sandwich recipe that you can call an egg salad sandwich prepared with hard boiled eggs. Super easy and portable idea for busy moms and dads to make for breakfast.
Materials
2

Eggs

Hard Boiled

2

pinches

Salt

2

pinches

Black Pepper

1

tablespoon

Carrot

Chopped

½

tablespoon

Capsicum

Chopped

1

teaspoon

Olives

Chopped

2

tablespoon

Mayonnaise

6

Bread Slices
Instructions
In a pan, boil eggs. Make it hard-boiled for perfect spread texture.

Now peel it properly and add mashed.

Add salt, black peppers, and mix well.

Also add small pieces of carrots, capsicum, and olives.

Add mayonnaise and mix well to make a thick paste.

Take bread slices and microwave for a minute.

Cut the sides.

Spread the egg mayo mixture on slices.

Make a sandwich and serve!
Notes
Microwave the bread slices for 1 minute to make them soft. If you like hard toast then toast it on the skillet for 2 minutes. Don't make it dark.
1 tablespoon of mayo will be enough for 1 egg to make the perfect mixture. 
Veggies, chicken, sausages, pepperoni, and olives can be added to add more flavor to sandwiches. 
After making, cover the sandwich to avoid bread hardness. 
Avoid overfilling the sandwiches otherwise the filling will drop while eating. 
Nutrition
Serving:
1
g
|
Calories:
229
kcal