Paneer Pakora recipe with extra crispy bite will give you the best flavor of pakoda ever. The most popular delectable Indian snack of street food prepared with spicy paneer cubes, dipped in a gram flour batter and fried to get golden pakoras. These panner pakora bites are extremely crispy and crunchy from outside and incredibly soft and chewy from inside.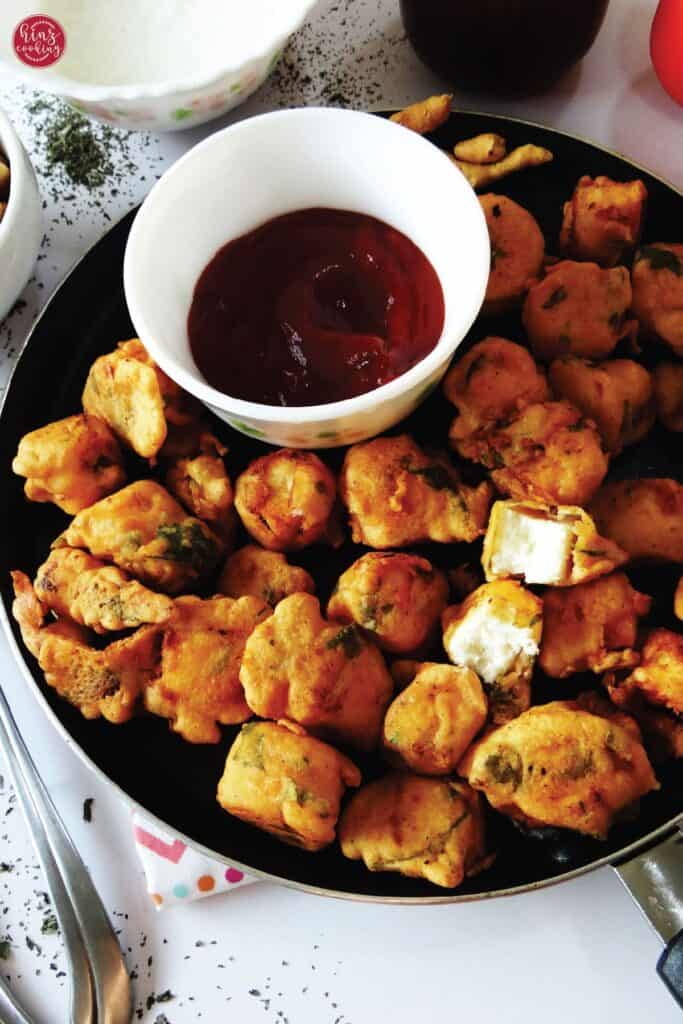 Jump to:
About Recipe
If you are curious to know, what is paneer pakora? It's a recipe prepared with cottage cheese and chickpea flour (besan). The small cubes of cottage cheese are spiced with salt, pepper, gram flour, and other seasonings. Dipped in a thick batter of chickpea flour and then deep-fried to get these crispy fritters to serve with chutney or sauce.
Whenever I have paneer at home, the first recipe that comes to my mind is to make panner pakoras as it's quick and easy and my whole family have loves the super crunchy flavor of paneer stuffed pakoda with green chutney. I personally like to have with Imli ki Chutney.
It's a perfect party snack that you can quickly prepare just by dipping the panner in gram flour batter. Also a good idea for kids lunch box. My son absolutely loves the fried texture of panner in his lunch box. Winter season is approaching so it's the best time to prepare paneer pakora to enjoy the rain and cloud thundering.
My mother used to make homemade panner with leftover milk and prepare crispy and crunchy pakoras to serve with evening tea. Those were the special moments and lovely time that I always cherish.
It's easy to prepare paneer cubes at home but you can also use store-bought paneer to prepare this recipe. There are so many ways to make Indian fritters but the taste of paneer pakora is the best.
What's Special?
In all my pakora recipes, this one is super easy and quick. Yes, I honestly say this as it doesn't need any chopping or mixing of other veggies or ingredients. We just need spices, paneer, gram flour, and oil to prepare these pakora fritters. Whenever I am in a hurry or sudden guests arrive and need to serve quickly then these panner pakoras help me a lot. I love the taste of paneer wrapped in gram flour batter. To save time, I always keep frozen paneer in my freezer to prepare quick paneer pakora fritters.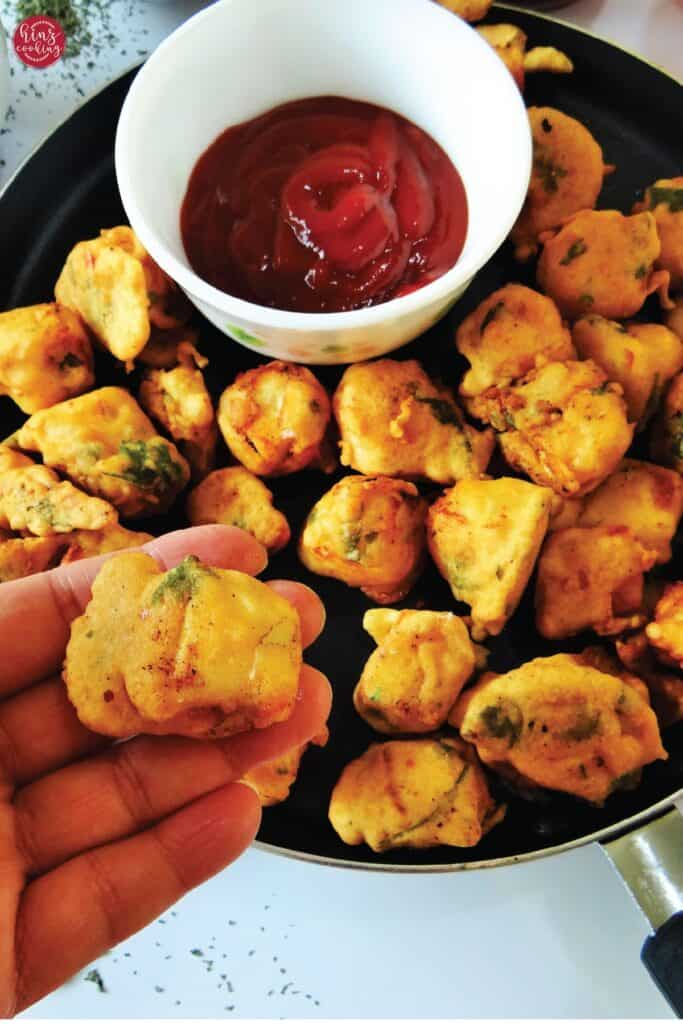 Ingredients
Paneer / Cottage Cheese: Use homemade paneer cubes or take ready-made from store. Make sure the cubes are perfectly shaped to make perfect and presentable pakoras.
Spices: Chaat masala, garlic powder, red chili powder and black pepper.
Gram Flour: It's a chickpea flour known as besan used as main ingredient of pakora coating. Used corn flour and rice flour to add extra crispiness in paneer pakora.
Oil For Frying: Use any sunflower or vegetable oil for frying.
Paneer pakora will give you a low-calorie option to try pakora with cheese. The mild and milky paneer wrapped in an extremely crispy and crunchy texture will be an adorable snack on your table.
How to Make
If you have paneer at home then it hardly takes 10 to 15 minutes to prepare this paneer pakora recipe. It's a 3 step process. First, need to marinate the paneer cubes and then coat well in gram flour batter to deep these pakodas. Let's make it step by step.
Paneer Seasoning - Salt, peppers, garlic powder, and chaat masala sprinkle over the paneer cubes and give it a gentle mix to absorb spices.

Preparation of Pakora Batter - Now in a bowl, add gram flour, cornflour, rice flour along with salt, red chilies, black pepper, garlic powder, and a pinch of turmeric. Freshly chopped coriander and onion will enhance the taste so add it according to taste. Now it's ready to make a thick batter with water.

Add seasoned paneer cubes in pakora batter and give it a good mix so the batter can stick to the panner from all sides.

Deep Frying - Heat up the oil to fry paneer. Make sure the temperature should be on medium. Fry pakoras in batches to get golden brown crispy and crunchy paneer pakoras.
Air Fryer Paneer Pakora
It's healthy and nutritious to make paneer pakora in an air fryer. The overall recipe will remain the same only need to fry using an air fryer. The first step is to keep the pakoras in an air fryer basket lined with aluminum foil and spray oil. Place the pakoras in the basket and again spray with oil. Now close the fryer and cook the pakoras at 300°F for about 12 to 15 minutes. Flip the pakora after 7 minutes to cook from another side. To get a good result, spray oil generously to get extremely crispy pakoras
Try it!! And Join Us
Give a Try to this extremely crispy and crunchy 'Paneer Pakora Recipe' and share with your friends and family. You can also join our Facebook group of foodies to interact with other foodies!! It would be great if you leave your feedback in the comment box. If you make this recipe at home then share a picture with the hashtag #hinzcooking on Facebook and Instagram
Watch Video

Useful Tips
Clean cutting of paneer cubes will improve the look of pakora. If it's breaking, torn or brittle then avoid it otherwise the pakora shape will not be good.
Fresh chickpea flour/gram flour (besan) is the most important ingredient that will determine the main taste of pakora.
Make sure it pakora batter is in one tone, homogenous without lumps. It should be semi thick so the paneer can easily coated.
If the pakora batter is showing thin texture then add gram flour to make it consistent.
Addition of spices depends on your taste. If you want to add carom seeds, asafoetida or other ingredients then add it accordingly.
I have added cornflour and rice flour to add extra crispiness to pakora after frying.
The addition of cornflour will add the crisp in pakora and rice flour will make it crunchy.
Monitor the oil temperature before frying pakoras. Fry on medium heat!
Here are some Deep Frying Tips for Beginners
Serving Idea
Paneer Pakora can be served with all-time favorite and in fact pair up well with every Indian snack the green chutney or yogurt mint chutney. If you like then you can add sweet and sour tamarind sauce or imli ki chutney.
It would be great if you try Orange Peel Tea right after eating pakoras.
Frequently Asked Questions
How to Bake Paneer Pakora?
Oven baked paneer pakoras are healthy and it's easy to bake like any other fritters. First, preheat the oven at 220C and place aluminum foil or parchment paper on the baking tray. Spray oil on the foil and rub it throughout to make it greasy. Now place the paneer cubes coated with pakora batter in a baking tray with some distance. Spray oil from upside as it will help in baking. Place the tray in the oven and bake for 15 to 20 minutes at 220°C428°F. It will be ready like a crispy and crunchy fritter and taste good with chutney.
Is Paneer Pakora Healthy?
Yes, it is if you consume in limit! and you can make more healthy version if you bake or fry in an air fryer. Cottage cheese (paneer) is low in calories, full of protein, and gluten-free.
How to make pakoras crispy for a long time?
The simple idea is to use rice flour along with cornflour to add extra crispiness to pakoras. Another way is to double fry them. But I recommend frying once and squeezing the oil right after taking it out from the oil. If Pakora absorbs oil then it becomes soggy in no time. You can use kitchen paper to absorb excess oil. Don't cover the pakoras after frying otherwise the steam will make it soggy.
Which Paneer is Good for Paneer Pakora?
You can use homemade paneer cubes to make these pakoras. Or, take store-bought paneer. You can also use cottage cheese of any good brand.
Is it marinated paneer pakora?
In this recipe, we marinated paneer with a special seasoning of salt and pepper along with garlic powder. You can add more ingredients in marination like garlic ginger paste. Beaten eggs can be added but it makes the pakora so foamier. In the same way, some people add carom seeds and asafoetida in paneer marination.
How many calories in Paneer Pakora?
1 cube of paneer contains 16kcal and 1oz is more or less equal to 124kcal. After frying in pakora batter it becomes 70 to 80kcal. If you are having 5 paneer pakoras then it will be 400kcal. In the same way, for 10 paneer pakora, the calorie count reaches 800kcal.
You Might Also Like
Paneer Pakoras (Pakoda Recipe)
ever. The most popular delectable Indian snack of street food prepared with spicy paneer cubes, dipped in a gram flour batter and fried to get golden pakoras. These panner pakora bites are extremely crispy and crunchy from outside and incredibly soft and chewy from inside.
Materials
For Paneer Marination

200

g

Fresh Paneer

1

tsp

Chaat Masala

½

tsp

Garlic Powder

½

tsp

Red Chili Powder

⅓

tsp

Black Pepper

Pakora Batter

2

tbsp

Garm Flour

Besan

1

tbsp

Cornflour

½

tbsp

Rice flour

½

tsp

Salt

½

tsp

Garlic Powder

½

tsp

Red Chili Powder

⅓

tsp

Black Pepper

1

pinch

Turmeric Powder

2

tsp

Fresh Coriander

2

tsp

Chopped Onion

50

ml

Water

Oil for deep frying
Instructions
First season the paneer cubes with chaat masala, garlic powder, red chili powder and black pepper.

Mix it well and take out in another bowl.

Now in same bowl, add gram flour (besan), cornflour and rice flour.

Also add salt, garlic powder, red chili powder, black pepper, turmeric powder.

Add freshly chopped coriander and onion.

Make a thick batter with water.

Now add marinated paneer cubes in pakora batter and give it a gentle mix so the paneer cubes can properly coat from all sides.

Crispy and crunchy paneer pakora is ready to serve.
Notes
To make a perfect and presentable paneer pakora, take a perfect cube of panner. If it's brittle or breaking then it will not taste good in pakoras.
Use good quality chickpea flour/gram flour or besan.
Strain the flour before use. It will give you the smooth texture of pakoras. You can make variations in spices to add in paneer as per your taste.
Gram flour batter should be thick and consistent. It should not be runny otherwise the paneer will not stick the batter.
Use cornflour or rice flour to add extra crispiness in pakoras. Especially the rice flour add crunch in pakoras.
Strain the besan or flour before use.
Avoid to fry pakora on high heat. Medium heat/flame/temperature is recommended.
Nutrition
Serving:
5
Pieces
|
Calories:
400
kcal