Homemade and easy chicken pakora recipe can easily beat any other chicken appetizer. Tender and juicy boneless chicken cubes marinated in Indian spices and herbs, coated with gram flour pakora batter, and deep fried to a golden brown crispy, and crunchy texture make a perfect flavor to serve as a party starter. Gluten-Free and extremely easy to make!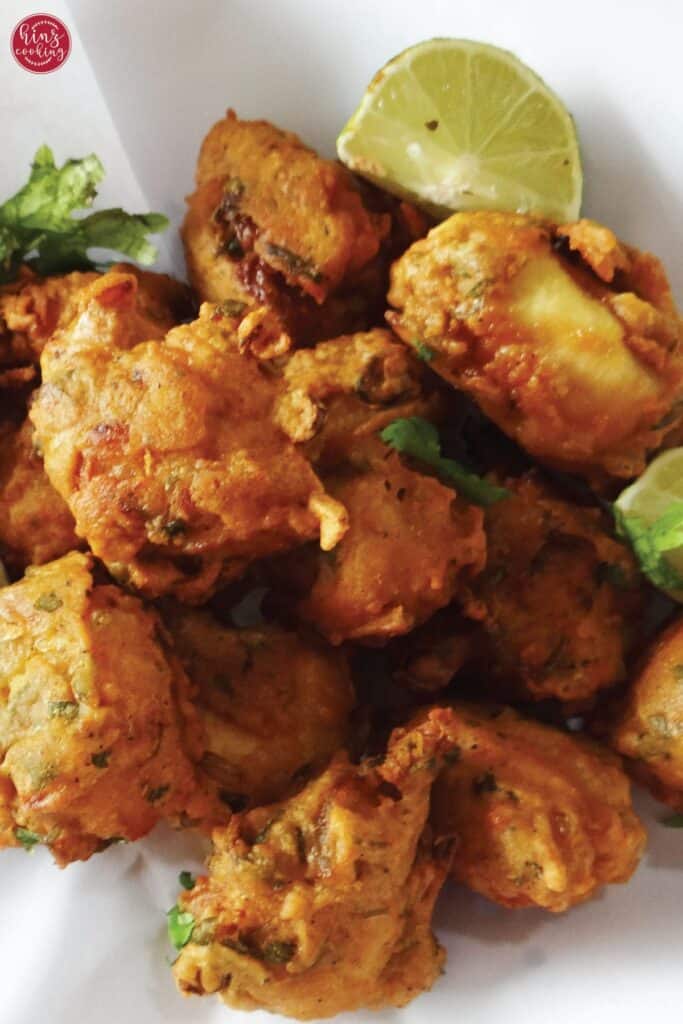 I am a big fan of crispy fried chicken so I wanted to make chicken pakoda with the same texture but this time with besan pakora batter.
Literally, it sounds so good but needs to apply a few hacks to get the extra crispy and crunchy layer of these pakoras.
Jump to:
What is Chicken Pakora?
Chicken Pakora (pakoda) is the traditional roadside snack of India, Pakistan, and Bangladesh. Getting famous in the Middle east. Some people call it Pakora, Pakoda, or Bajji according to their regional language. Basically, it's a diversified form of fried chicken fritters prepared with gram flour paste.
Crispy bites of tender and juicy chicken are loaded with spiced flavor.
It's a popular snack associated with the rainy season as people love to make pakoras as the rain starts or the thick cloud surrounds the sky.
In Muslim culture, Pakora is the main snack of Ramadan iftar and people make it in different ways with onion, vegetables, fish, paneer, bread, and chicken. I love to make different styles of chicken pakoras recipe, as it's super simple and easy and my entire family, loves to have them with evening tea. My 7-year-old son loves to have these crispy pakoras with ketchup. If you didn't try these pakoras with chicken then give it a try and you will surely love the texture, crispiness, and taste of chicken fried with chickpea flour (besan). If you don't want to make it at home then try any Indian or Pakistani restaurant with your family.
Why Is it the Best Chicken Pakora?
You know it's the best chicken pakora recipe! why?
because, before sharing this recipe on my blog, I created different versions by making variations in spices. Even I have made tandoori chicken pakora with the homemade tandoori chicken spice mix and also tried it with ready-made chicken pakora masala powder but this recipe of homemade chicken pakora was the WINNER as it will give you an EXTRA crispy and crunchy texture of pakora with tender, moist, and juicy chicken bites.
Isn't it drooling to have chicken pakoras with the same crunch that you have in fried chicken?
On a personal note, I simply loved and my son finished in no time.
So let's delve into it to make the best chicken pakora as a substitute for chicken nuggets. Believe me, my son loved it more than nuggets. These pakora nuggets are healthy as chickpea flour is also a good source of protein and fiber. Use it as a replacement for white flour.
These are the reasons to call it the best chicken pakora:
Extremely crispy and crunchy in texture.
Chicken is fully tender from the inside and every bite is intact with the juiciness of the moist chicken.
As the chicken is marinated so all the spices are deeply penetrated to make it full of flavor.
Deep fried with the combination of high to low frying methods so it's making difference.
Less oily as I squeezed it with a spoon while taking out the chicken from the oil and this hack is the main reason to keep it crispy for a long time.
Lightweight & Airy
Easy to digest!
Everybody loves fried chicken and pakora so they both combine then it formed a golden, nutty, crispy, and aromatic fritter that everybody loves to eat. I personally love making this at teatime as it doesn't take much time to prepare and fry.
I prefer to make it as a party snack as it takes less time to fry so I can manage my time to marinate the chicken in besan before a day and refrigerate it in an airtight container. Take out before an hour of frying. Don't forget to give a good mix with hands/spoon before frying as it will give the crispy and crunchy texture of chicken pakoras.
How to Select Chicken for Pakoras?
Use boneless chicken without skin. Breast or thighs are the best to use. I personally love to use chicken breast and cut it into small chunks to make chicken pakoras.
Alternatively, you can try this recipe if you have leftover chicken boti/tikka or boneless marinated chicken at home. In this way, directly dip the chicken in pakora batter and fry. Best to watch the recipe video if you are making chicken pakora from scratch.
Best Way to Prepare Chicken Pakora Batter
Well, pakora batter is the real science to make perfect pakoras.
If it's runny or thick or not properly beaten then you can imagine the end result so the first priority is to make the consistent, smooth, and fluffy texture of pakora batter so it can gracefully grip the chicken and execute a perfect texture after frying.
3 ingredients will make an impact to get the best pakora batter.
1) Water: Always use water in batches to make a perfect consistency of pakora batter. It should not be runny or too thick. Needs to be semi-thick that can easily coat the chicken pieces. If the pakora batter is too thick then it will make a thick layer and will not taste good after frying. If it's runny then it will not stick on the chicken. Always beat the pakora batter with a whisk or spoon to make a smooth, non-lumpy paste.
2) Soda Bicarbonate: Soda bicarbonate (meetha soda) will work as a catalyst to activate the rising process. It's a leavening agent that will help to make puffy and fluffy pakoras.
Carefully monitor the quantity of soda as it has a tendency to absorb the oil while frying if used in high quantity. That could be a reason for soggy pakoras. If you skip it, you will lose the puffy look.
3) Gram Flour (Besan): To make a perfect pakora batter, gram flour is the key ingredient that will give you the real flavor of pakora. It's easy to find freshly ground besan in Pakistan and India but if you are living abroad then find it at a nearby Pakistani or Indian grocery store. Check with the names of Premium quality chickpea flour/gram flour or besan.
Secret of EXTRA Crispy Pakoras
Along with the gram flour, I used a combination of cornflour and rice flour in pakora batter.
Corn flour will add crispiness to pakoras.
Rice flour will add a crunch to pakoras.
So both the ingredients will make a big difference in pakora texture.
Ratio: In ½ cup gram flour, 1 tablespoon of corn flour + 1 tablespoon of rice flour will be enough to get the required texture.
Ingredients
Boneless chicken: Use chicken breast to make chicken pieces. Small pieces make a perfect taste so avoid big pieces of chicken.
Spices and Herbs: Marinate the chicken with salt, red peppers, cumin powder, coriander powder, garam masala, chaat masala, garlic, and ginger powder. Chopped onion, green chilies, and freshly chopped coriander are used to add a perfect taste to the marinated chicken.
Gram Flour: It's a chickpea flour known as besan used as the main ingredient of pakora batter. Used corn flour and rice flour to add extra crispiness to pakoras.
Oil For Frying: Use any sunflower or vegetable oil for frying.
How to Make Pakora Chicken
Here I am making a traditional deep-fried recipe of chicken pakora that anybody can make within 20 minutes (Excluding marination time). Super quick, simple, and easy!
Making chicken pakoda is the 3 steps process:
Marinate the Chicken: First, marinate the chicken in salt,
Coat the Chicken: Add gram flour (besan), rice flour, and cornflour and coat the chicken. Then add little water to make a thick paste.
Deep Frying: In a preheated oil pan, add the chicken pieces one by one and cook for about 5 to 6 minutes on medium heat/flame until the chicken turned to golden brown color.
Video Recipe

Try this crispy Chicken Pakora Recipe. You can easily make it at home to serve as a side dish. Share with your friends and family and I am sure they are gonna love it. You can join our Facebook group of foodies to interact with other foodies!! At Hinz cooking, you can find more recipes related to breakfast, lunch, dinner, and tea time. Explore all recipes to get your desired recipes.
Expert Tips
Use the breast or thigh portion of boneless chicken as it's more tender and juicy and cooks perfectly during frying.
Strain the gram flour (besan) or flour before use.
You can make variations in spices and herbs as per your choice and taste.
Don't make the pakora mixture runny. It should be thick and properly stick on chicken
Never fry chicken on extremely high heat otherwise the chicken will not cook from inside.
Corn flour and rice flour are used to add extra crispiness to pakoda texture.
Don't Forget to Watch: Shish Tawook | Chicken Spring Rolls
Variations
Serving Idea
Chicken Pakora is a form of fried chicken so you can serve it with any dip or sauce that you like. Traditionally the recipe is served with yogurt mint chutney, green chutney, and Tamarind dip (Imli ki chutney). You can also serve with simple tomato ketchup if serving to kids. I love to have honey garlic sauce that makes a perfect taste. If you didn't try and give it a try.
How to Store
You can store the chicken pakora marination in an airtight container in the freezer for 15 days. When you need to fry, take it out. Defrost the chicken and add gram flour, corn flour, and rice flour and fry accordingly.
You can refrigerate the leftover fried pakoras. Before eating, warm it on a skillet at low flame. (Leftover is not crispy as the freshly fried pakoras).
How to Reheat Pakoras
1) Best way to reheat on the stovetop is to use a preheated frying pan and keep it there on extremely low heat for about 3 to 4 minutes.
2) Microwave for 2 minutes. In this way, it will become soggy as the chicken may release water. If it happens then apply option 1 and it will regain the crisp. (Recommended).
3) Keep it in preheated oven at 200C for about 10 minutes.
4) Reheat in air fryer at 200C for 8 minutes.
Share this recipe with your family and friends. It would be great if you leave your feedback in the comment box. If you make this recipe at home then share a picture with the hashtag #hinzcooking
Q & A
How to make chicken pakora in an air fryer?
If you want to avoid deep frying then try this in your air fryer and it will be soft, tender, and crispy pakora without oil.
Place an aluminum foil on your air fryer tray and brush it with oil. Now place the pakora mixture in the tray and drizzle little oil over it. You can use olive oil or any other vegetable oil. Close the fryer and cook for about 30 minutes at 300 F. Once ready, serve with your favorite chutney or sauce.
Is it a Scottish Dish?
It's an Indian snack but people love to have it in Scotland and available everywhere so many people think it's a Scottish recipe.
Is Chicken Pakora Healthy?
The recipe is prepared with chicken which is protein-rich and chickpea flour (besan) is gluten-free. It's a low-carb recipe that you can eat. To make a perfect healthy version, try it in the air fryer or you can shallow fry the pakoras. Deep frying definitely increases the calories count. If you are seeking weight loss recipes, then try this in the air fryer.
Is Chicken Pakora Gluten Free?
Yes, it is! Chicken, chickpea flour, rice flour, and cornflour all are gluten-free. So if you are seeking gluten-free recipes then must try this.
Is Chicken Pakora Spicy?
Yes, it is! but you can manage the spices to your taste. Red chili powder and green chilies are the main ingredients to add spice to pakora. If you like it spicy then add it and if you don't want then skip or use it in pinches.
You Might Also Like
Easy Chicken Pakora Recipe
Homemade and easy chicken pakora recipe can easily beat any other chicken appetizer. Tender and juicy boneless chicken cubes marinated in Indian spices and herbs, coated with gram flour pakora batter, and deep fried to a golden brown crispy, and crunchy texture make a perfect flavor to serve as a party starter. Gluten-Free and extremely easy to make!
Ingredients
250

g

Boneless Chicken

½

teaspoon

Salt

½

teaspoon

Crushed Chilies

½

teaspoon

Cumin Powder

½

teaspoon

Garam Masala Powder

½

teaspoon

Red Chili Powder

½

teaspoon

Chaat Masala

½

teaspoon

Garlic Powder

½

teaspoon

Ginger Powder

1

teaspoon

Fresh Lemon Juice

2

teaspoon

Chopped Onion

1

teaspoon

Green Chilies

1

teaspoon

Chopped Coriander

½

Cup

Gram Flour

1

tablespoon

Corn Flour

1

tablespoon

Rice Flour

2

Pinches

Soda bi Carbonate

optional: 2 Pinches

100

ml

Water

Oil for Frying
Instructions
Marinade The Chicken
In a bowl, place chicken and marinate with salt, crushed chili (chili flakes powder), cumin powder, garam masala, red chili powder, chaat masala, garlic and ginger powder.

Squeeze a fresh lemon over the spices.

Give it a good mix and marinate the chicken for 30 minutes.
Chicken Pakora Batter
After 30 minutes, add gram flour, corn flour and rice flour in marinated chicken.

Again mix it well to coat the chicken pieces with flour.

Now gradually add water to make a thick pakora paste.
Deep Frying
Preheat the oil in pan.

Deep fry the chicken on medium flame to cook perfectly from inside and out. It will take 5 to 6 minutes to perfectly cook the chicken.

Take out chicken on kitchen paper as it turned to golden brown color.

Serve with sauce or chutney.
Notes
I love to use chicken breast or thigh portion to make pakora as it's more tender and juicy and gives a perfect taste and texture of pakoras.
As a best practice, always strain besan before use. 
It's easy to make variations in spices and herbs as per your taste. 
You can skip the fresh lemon juice with vinegar. 
Pakora batter should be thick and consistent. If it's runny then add more gram flour to adjust the consistency. 
Avoid frying chicken at ultra-high temperature. 
Fry chicken at a medium temperature so the chicken cooks perfectly from inside. 
Corn flour and rice flour are used to add extra crispiness to fried chicken.
Nutrition
Serving:
250
g
|
Calories:
65
kcal