Jump to Recipe
Chicken Spring Roll Recipe will give you the same flavor as you eat in restaurants. Today preparing homemade mini spring rolls for teatime. It's a best snack recipe for party and people love to eat crispy spring rolls as snacks or as appetizer.
Looking for easy snack recipes for the next party? Check out my, Falafel, Egg Fingers, Potato Wedges, Oven Baked French Fries, and Potato Pancake. You will surely love these recipes to share with your friends and family.
Jump to:
Chicken Spring Roll Recipe
Spring rolls are crispy appetizers or snacks famous in Asia especially in Middle Eastern and South Asian countries. It comes from Chinese chūn juǎn that people love to eat.
Spring rolls come in variety due to different stuffing but cabbage is mandatory to make the filling. I have seen so many variations in spring rolls making. Many people ask; why is it called spring rolls. As I know, it's a famous Chinese roll that most people eat during the spring season and famous food of spring festival in China.
Spring rolls can be prepared deep-fried, pan or shallow-fried, nonfried (steamed), and as baked rolls.
It's simple and easy to make homemade spring rolls and you can prepare in bulk to store in freezer for later use. For this, you just need to prepare filling or stuffing and need a spring roll sheet or wrapper that you can buy from store to save time otherwise you can make the spring roll sheet at home.
I personally love to eat spring rolls so make it at home and freeze for later use. Whenever the guest comes, my platter always has spring rolls to serve. It hardly takes 10 minutes to prepare. Take out from the freezer, Microwave for 5 minutes, and then frying...
How to Make At Home
To make the spring roll sheet, you need 3 major ingrdients; spring roll sheet / wrappers, oil for frying and stuffing. That's it!!
I used a whole wheat spring roll sheet, you can buy it from any store or you can use homemade wrappers which is also easy. I went for ready-made option as it's easy and super quick to prepare so many rolls in one go.
Then prepared the chicken stuffing, first saute the chicken with garlic, salt and peppers then add the vegetebles (Cabbage, carrot and green bell peppers). Added dark soya sauce and corn starch and mix well on high heat. Don't cook for long otherwise the vegetable will not be crunchy in texture.
Then makes the roll by placing the stuffing in middle. Wrapping or making of rolls is so easy as I showed 3 methods to roll the spring rolls. 3rd one was so easy and super quick and makes a secure rolls that will not open or deform during frying.
Here are my frying tips and techniques that can help beginners.
How to Deep Fry at Home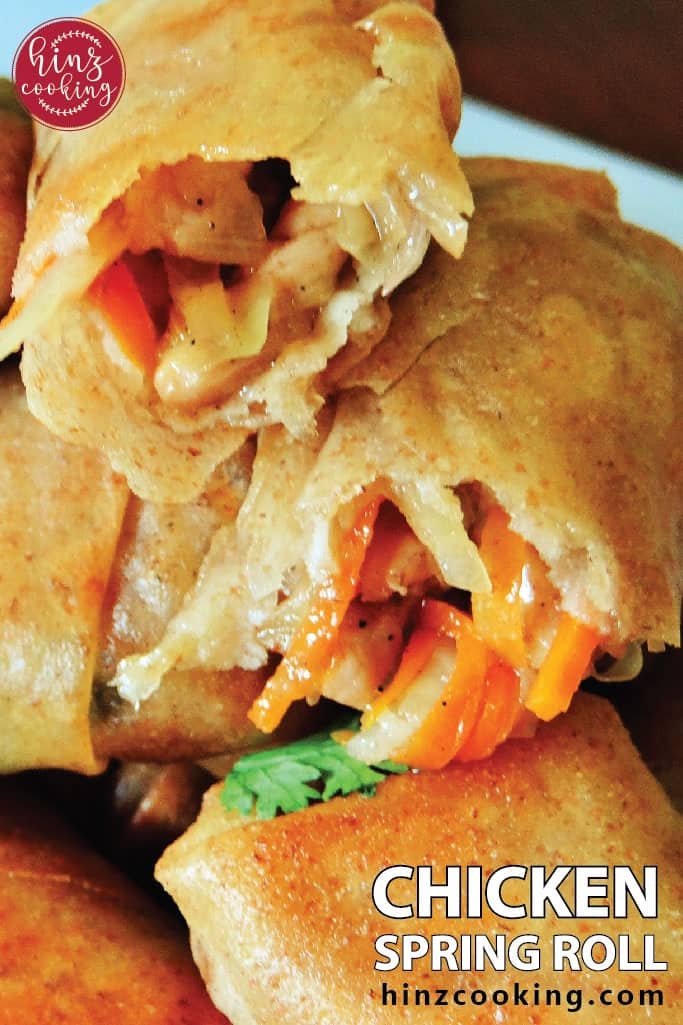 Sauces To Serve With Rolls
Tomato Ketchup
5 Tips to Make Restaurant Style
Don't use old wrappers as they can break during making rolls or while frying.
Avoid cooking vegetables for long as they will get soggy and lose the crunch.
Wrapping of roll is important! In the video, you can watch 3 different methods to wrap spring rolls.
Fry rolls on medium heat to get a crispy texture for a long time.
Place fried spring rolls on kitchen paper to absorb excess oil.
Many people relate spring rolls with summer rolls but both are different. Spring rolls made with flour dough while the summer rolls made with rice wrappers. In the same way, baked spring roll (also the fresh) are more healthy as compare to deep fried.
How to Store the Rolls
You can store the rolls right after making them before frying. In a video (03:45 - 04:05), I shared the method to store the spring rolls. Right after making, place in a container. Sprinkle little flour to avoid clutter and place in the freezer for an hour. After an hour, shuffle the rolls (in this way, it will not stick) and freeze for 15 days. When you need it, take it out, microwave for 5 minutes and fry!
Recipe Video
It's easy and quick to make chicken spring rolls at home kitchen using ready-made sheet or wrappers. Here I captured the video of spring rolls while making. I hope it will help beginners to make quick rolls for the next party. Let's have a look!
Chicken Spring Roll Recipe - Mini Spring Rolls
Quick and easy homemade chicken spring roll recipe video. Best for beginners to make party snacks. Crispy indo Chinese rolls to try at home.
Materials
Spring Roll sheet

Chicken mince - 150 gms

Oil - 3 Tsp

Garlic cloves

Grated - 1 Tsp

Onion

chopped - 2 Tbsp

Salt - ½ Tsp

Black Pepper - ½ Tsp

Carrots - 1 Cup

Cabbage - 2 Cups

Green Bell Pepper - 2 Tsp

Dark Soya Sauce - 1 Tsp

Corn Starch - 2 Tsp

For Sealing Spring Rolls

Corn Starch - 2 Tsp

Water - 100 ml

Make a thick paste

Oil for Frying
Instructions
Heat up the oil in a frying pan.

Add garlic, and saute for few seconds.

Now add chopped onion and let it caramelize for few seconds.

Then place chicken mince and quickly stir and cook on high heat until the chicken changes the color.

Add salt and pepper to add flavor to the chicken.

Also add carrots, cabbage, and green bell peppers.

Mix well.

Pour dark soya sauce and corn starch.

Mix well and turn off the heat.

Let it cool down before stuffing.

To seal the spring rolls, add cornstarch in a bowl and make a thick paste with water.

Now take out the spring roll sheet and place the stuffing. (As shown in video).

Roll the wrappers to make a secure roll. (3 wrapping methods are in the video)

Seal the rolls using cornstarch paste.

Now deep fry in a wok until it gets evenly light golden brown color.

Take out on kitchen paper and serve with favorite sauce.
Notes
Don't fry the spring rolls on ultra-high heat otherwise, it will burn.
Avoid cooking the vegetables in stuffing for too long otherwise, it will be soggy and lose the crunch.
Use fresh spring roll sheet and the old one might break during making rolls.
Properly seal the rolls using cornstarch paste.
You can deep fry, shallow fry, pan-fry, or bake the rolls as per your choice.
There are 3 methods of spring roll wrapping in the video. So you can choose the best at your convenience.
I preferred method 3 for wrapping as it's easy and secure for beginners.
Fry rolls on medium heat to get a crispy texture for a long time.
Place fried spring rolls on kitchen paper to absorb excess oil.
Nutrition
Share this recipe with your family and friends. It would be great if you leave your feedback in the comment box. If you make this recipe at home then share a picture with the hashtag #hinzcooking