Creamy peppercorn sauce for steak recipe without brandy or cognac. Ideal for holiday dinner. Quickly prepare with meat broth, cream, and freshly crushed black peppercorns. Make it at home and share it with your loved ones.
Looking for easy dinner recipes? Check out Oven Baked Chicken Breast, Honey Chicken with Honey Garlic Sauce, Garlic Butter Rice, and Potato Gratins.
Jump to:
Peppercorn Sauce Recipe For Steak
Today making a restaurant-style steak platter with a creamy peppercorn sauce recipe. It's simple and easy to make with a handful of ingredients. Peppercorn sauce has a strong aroma and unique flavor and perfectly goes well with steaks. It's a classic recipe that every chef love to make.
I am a true steak lover and always try different recipes not only at home but also in restaurants. And you know, peppercorn sauce is my first choice to have to pour on steak. I have tried the same recipe with chicken and meat. Here, I am making sauce with meat broth and serving with tender beef steak. It's a simple and easy recipe that anybody can cook at home with ease and convenience.
Why I love this recipe?
First reason to love this recipe is the taste and 2nd, it's so simple and easy to make. You can quickly prepare your dinner hardly within 30 minutes. Peppercorn sauce will be ready in 10 minutes. Why 10 minutes? because I cooked on medium heat to give it a saucy, smooth, and creamy texture.
Another reason to love it as it takes me to memory lane when I eat steak with my family and my mother used to prepare a big bowl of peppercorn sauce to pour on steaks.
It's a perfect holiday recipe! that you can make for your family to enjoy dinner or lunch at home. If you are planning a special dinner then add this to your menu as it's quick and tasty and I believe to hardly find one who can ignore this recipe.
It's a black peppercorn sauce recipe. One of the best culinary creamy sauce for steak (without brandy or liquor). This sauce can also be prepared with green, pink, and white peppercorns.
8 Tips to Make Restaurant Style
Use olive oil or butter to prepare the sauce.
The concentrated beef broth will add more flavor.
The broth is salty in taste so manage the salt quantity accordingly.
If you are using beef steak then use beef stock in sauce to make a closed knit with taste. In the same way, if you are using chicken steak then add chicken stock in sauce. Here used beefsteak so using beef stock in sauce. It will make a big difference in taste.
If you don't want to use cream then switch with milk.
Never add cream on high heat otherwise it may curdle.
Stirring is important to give a smooth texture to the sauce.
Use freshly crushed black pepper.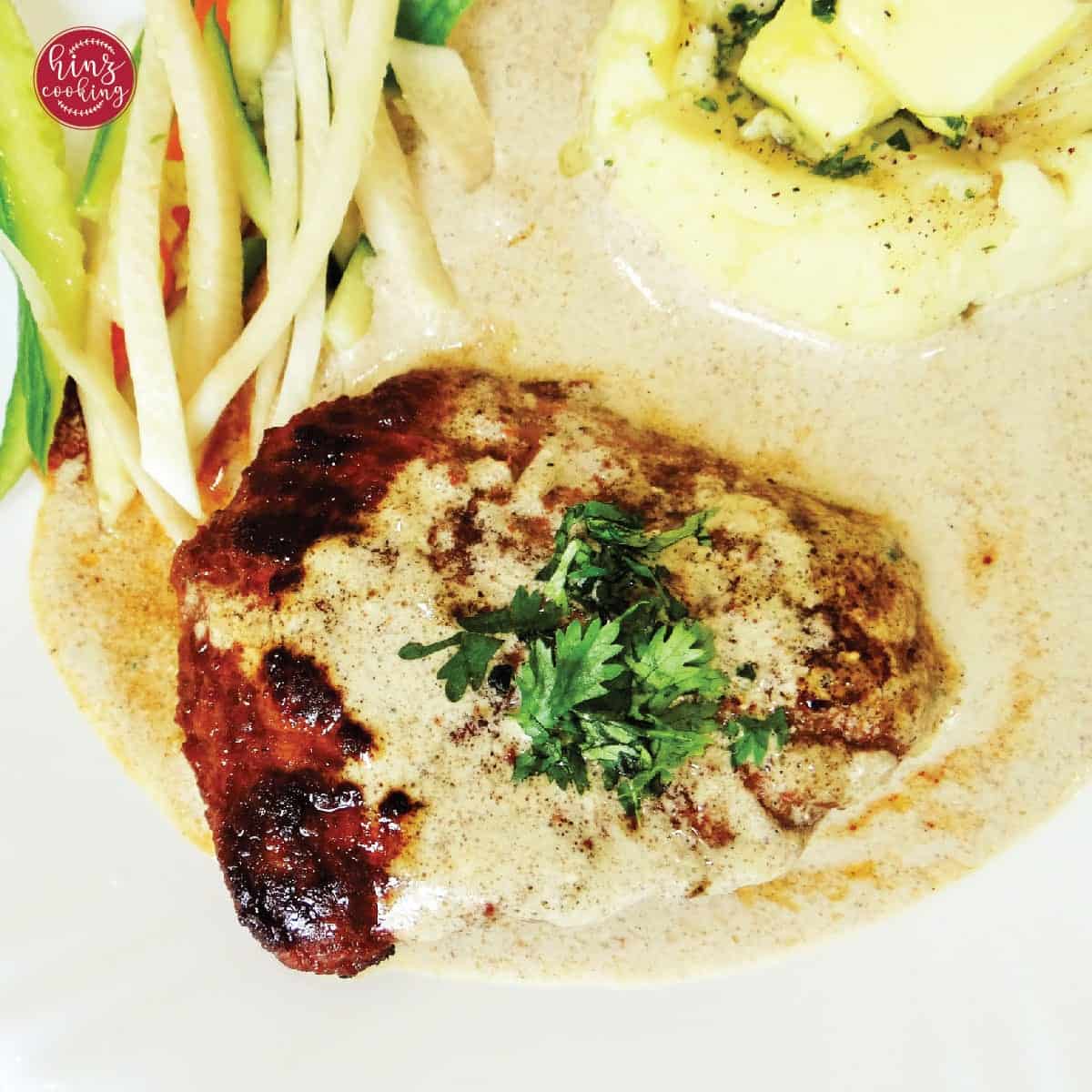 How to Make From Scratch
Before starting, I'd like to share the recipe is without brandy or alcohol. Many chefs used to make this recipe in restaurants with alcohol/liquor. Here we will only use concentrated meat broth, cream, and peppercorn seasoning with crushed garlic to prepare the sauce.
Main Ingredients
To prepare peppercorn sauce, you can use these ingredients:
Olive Oil: Used to saute crushed garlic and will add lustrous look in sauce.
Meat broth: Using homemade beef broth that I prepared with meat bones, garlic cloves, salt and black peppercorns.
Cream: Using fresh cream as it gives smooth, shiny and texture. If you are avoiding calories then simply switch with milk.
Salt + Peppercorns: It's a black fresh crushed peppercorns that we used in this recipe.
Beef Steak: Simply marinate the steak with salt, garlic, paprika, vinegar and thyme.
The Peppercorn sauce recipe is simple and easy. In a heated pan, add olive oil and saute fresh garlic. Then add meat broth and cook it for about 2 to 3 minutes until it starts to get thick in texture. Now add cream and continuously stir the pan to blend the cream with broth. As the sauce shows a homogenous texture, then season with salt and freshly crushed black peppercorns and cook it for about 3 to 4 minutes until you get the desired consistency. It could be semi-thick or perfectly thick depending on your choice. Cook the marinated steak in olive oil and serve by pouring peppercorn sauce.
How To Store leftover Sauce?
You can simply pack in an airtight mason jar and refrigerate for 3 to 4 days. I personally don't recommend freezing the sauce for a longer period without any preservative.
How To Reuse?
Take it out and pour it in a heated pan and cook for 2 minutes until it started to make bubbles. You can add milk if the sauce looks dry. Garnish with freshly crushed black peppercorns to give it a fresh taste.
What to Serve with Steak?
You can make serving in a variety of ways. My platter has been served with creamy garlic mashed potatoes, and fresh veggie slices.
Another idea is to pair up with oven-baked french fries and coleslaw.
I also love to serve with roasted carrots and dinner rolls.
If you are a mushroom lover then simply add garlic mushrooms and I believe it will make the best combo.
Recipe Video
It's an easy and super quick creamy black peppercorn sauce recipe for steak that you can easily prepare at home kitchen. I captured the step-by-step video recipe to share with you. Let's have a look as it might help you to get a quick direction to prepare in your kitchen. Have a look at tips to make variations in recipe as per your taste.
Thanks for watching the video! If you enjoy it, please subscribe to our Youtube Channel and hit the bell icon to get video alert.
Peppercorn Sauce For Steak
Restaurant style pepper corn sauce recipe for steak without brandy. Creamy black peppercorn sauce for steak is perfect for holiday dinner.
Materials
1

tbsp

Olive Oil

1

tps

Garlic

crushed

2

cups

Beef broth

1

cup

Cream

⅓

tsp

Salt

½

tsp

Freshly crushed black peppercorns

1

tsp

Parsley for garnish.

Beef Steak

Marinate with: Salt

Garlic, Paprika, Vinegar and Thyme
Instructions
Preparation of Peppercorn sauce

In a pan, add olive oil and heat it up a bit.

Add crushed garlic and saute until it starts to change color.

Now add meat stock (beef stock) and mix well until it starts to get thick. It will take 2 to 3 minutes to get thick.

Then add cream and mix well using spatula to blend broth and cream to form homogenous texture.

Cook for about 2 to 3 minutes on medium heat. Keep stirring!

Season with salt and freshly crushed black peppercorns.

Garnish with chopped parsley.

Preparation of Steak:

Marinate the steak with salt, garlic, Paprika, vinegar and Thyme.

Overnight marination recommended or at least 2 to 3 hours.

In a pan, add olive oil and fry the steak for about 5 minutes from one side initially place on high heat then turn the heat to low.

Flip and as it starts to get mark then cover with lid on low flame for about 20 minutes. It will cook in steam.

Then remove lid and place the tender steak piece in platter.

Pour the cooked juices of steak over it.

Then give it a nice pouring of peppercorn sauce.

Serve with your preferred sides and enjoy!
Notes
Cook in olive oil or butter to prepare the sauce.
Beef broth with bones is more recommended to serve sauce with beef steak.
Monitor the salt quantity as the beef broth is salty in taste.
If you don't want to use cream then switch with milk.
Avoid to place cream on high heat otherwise it may curdle.
Continous stirring is important to give a smooth texture to the sauce. Use freshly crushed black peppercorns.
Nutrition
Serving:
1.5
Cups
|
Calories:
300
kcal

Share this recipe with your family and friends. It would be great if you leave your feedback in the comment box. If you make this recipe at home then share a picture with the hashtag #hinzcooking