Authentic Chicken Korma Recipe (Best Chicken Curry for Lunch/Dinner): Today's recipe is one of the best recipes of Pakistani and Indian cuisine. We are sharing easy and authentic 'Chicken Korma recipe' to make it in 'degi' style which is the most required taste of 'korma'. If you are a foodie and belong to central Asia specially Pakistan or India then you must be familiar with 'korma' taste.
In today's recipe, we will make the same taste as you eat korma at weddings that's why it's famous as Shadiyon wala chicken korma. Korma is the special wedding dish in South Asian culture and people love to have it with biryani.
Korma can be prepared in a different style and every region makes in a different way but the traditional and original korma flavor is awesome and people try it at home to make exact 'bawarchi' style korma.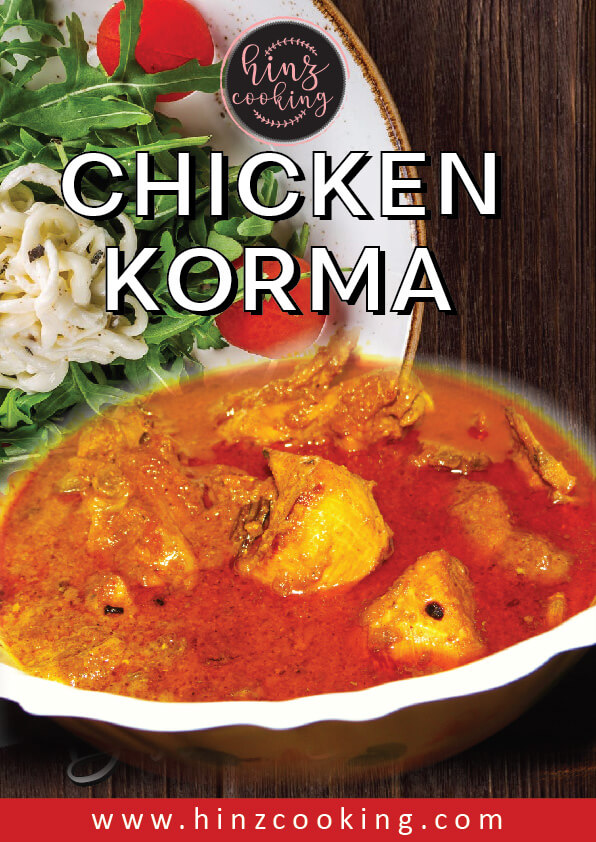 Tips To Make Best Korma
If you are true foodie then you must value the texture of korma curry that should be grainy in look. Here I am sharing a few tips that might help you to create a true texture of korma locally famous as danedar korma.
Thinly slice the onion before golden fry.
Always wash the onion before fry to detach the onion layers. This step will make the onion crispy while frying.
Add a pinch of salt while golden frying onion.
If your onion is soggy after frying then keep it in the freezer. It will get crispy so it will be easy to break.
Don't make a paste of fried onion. It will not create a texture of korma.
Always crush onion through hands.
So, let's move to Hinz kitchen and make this precious recipe that will surely add value to your dining. I am capturing this recipe in Urdu / Hindi so the Indian and Pakistani people can easily understand and quickly follow the recipe.
Authentic Chicken Korma Recipe - How to Make
Preparation time: 45 mins
Difficulty: Beginners
Recipe Language: Urdu/Hindi
Serving: 2-3 persons

Ingredients:
Chicken - 700 - 800 gms
Oil - 1 Tbsp
Whole Garam Masala
Cinnamon - 5 inches,
Black Pepper - 20,
Cinnamon - 5 inches,
Cloves - 8,
Bay leaves -5,
Green Cardamom - 8
Salt: To Taste
Onion - brown onion (Sliced) - 6 Tsp
Red Chili Powder - 1 Tsp
Turmeric Powder - 1 Tsp
Coriander Powder - 1 Tsp
Yogurt - 1 Cup
Water - 250ml
Garam Masala Powder - 1 Tsp
Method: 
Add 1 tbsp of oil in a pan and heat it up.
As the oil heated, add whole garam masala.
Also, add Ginger/garlic paste and pan along with spices.
In spices, add salt to taste, red chili powder, turmeric powder, coriander powder and keep stirring until the spices rawness ended and oil comes over the pan surface.
Now add Chicken with bones in a pan and cook it for about 5-6 mins on high temperature so the chicken color changes to white. This step will make the chicken juicy and improve the taste of curry. (Note: If you feel the masala is dry then you can add little water to tender the chicken)
Now add beaten yogurt to the pan and again cook for 5-6 minutes and keep stirring the pan so the yogurt water evaporates and gravy comes in one tone texture.
This step is so important and will bring the actual 'korma' texture in this recipe. Add hand crushed crispy brown onion to korma gravy. (See Also: How to make crispy brown onion)
Now add 200 ml of water in a pan.
Also, add garam masala powder. (Recipe: Garam Masala Powder)
Cover the pan for 20-25 minutes.
As the chicken gets tender and oil gravy become thicker and oil comes over the surface. You can turn off the stove and dish it out.
It's a simple, easy and authentic chicken korma recipe. If you are a true lover of degi chicken korma then this recipe is for you. You can make it on your special events and I am sure you guest will love it. Along with this, you can also try my 'chicken biryani recipe' and 'double ka meeta - shahi tukray'
Have a lovely eating time with your family and loved ones ?
Related Recipes:
Also, don't forget to subscribe to my cooking channel on Youtube.

Print
Authentic Chicken Korma Recipe - Best Chicken Curry for Lunch-Dinner
Traditional and Authentic 'chicken korma recipe' for Indian and Pakistani Korma lovers in Urdu / Hindi. Try this degi korma recipe step by step video...
Materials
Ingredients:

Chicken – 700 – 800 gms

Oil – 1 Tbsp

Whole Garam Masala

Cinnamon – 5 inches

Black Pepper – 20

Cinnamon – 5 inches

Cloves

– 8

Bay leaves -5

Green Cardamom – 8

Salt: To Taste

Onion – brown onion

Sliced – 6 Tsp

Red Chili Powder – 1 Tsp

Turmeric Powder – 1 Tsp

Coriander Powder – 1 Tsp

Yogurt – 1 Cup

Water – 250ml

Garam Masala Powder – 1 Tsp
Instructions
Add 1 tbsp of oil in a pan and heat it up.

As the oil heated, add whole garam masala.

Also, add Ginger/garlic paste and pan along with spices.

In spices, add salt to taste, red chili powder, turmeric powder, coriander powder and keep stirring until the spices rawness ended and oil comes over the pan surface.

Now add Chicken with bones in a pan and cook it for about 5-6 mins on high temperature so the chicken color changes to white. This step will make the chicken juicy and improve the taste of curry. (Note: If you feel the masala is dry then you can add little water to tender the chicken)

Now add beaten yogurt to the pan and again cook for 5-6 minutes and keep stirring the pan so the yogurt water evaporates and gravy comes in one tone texture.

This step is so important and will bring the actual 'korma' texture in this recipe. Add hand crushed crispy brown onion to korma gravy. (See Also: How to make crispy brown onion)

Now add 200 ml of water in a pan.

Also, add garam masala powder. (Recipe: Garam Masala Powder)

Cover the pan for 20-25 minutes.

As the chicken gets tender and oil gravy become thicker and oil comes over the surface. You can turn off the stove and dish it out.

Our chicken korma is absolutely ready to eat now. You can serve it with Paratha, roti or Rice