CoronaVirus Food List: What To Buy To Stock Up: Here is the basic quarantine shopping list for your home. From last week, as the corona pandemic is on peak and we are all quarantined at home.
Although its a difficult time but its a high time to stock up your food and essential accessories so you can easily live at home without any issues and problems. As you know the number of cases reported worldwide is increasing day by day so taking extra measures to stay safe is recommended for everyone.
Unfortunately, social distancing is advisable in real-time for an indefinite period.
So eating proper food, in fact, healthy and nutritious food is the most prior requirement of this time.
Why? I am saying this...
Because building a strong immune system is the only way to fight with corona. If you will not eat, healthy and nutritious food then your body will not be able to fight with coronavirus (COVID19).

It's the responsibility of home managers to fully stocked up your house with essential and recommended food items.
During surfing the internet, I found many queries that people are asking in groups and forums like what to eat and what to keep in their kitchen shelves and refrigerator.
If you are having any sort of coronavirus symptoms like fever, breathing issues, cough then immediately consult with your doctor or emergency center in your country.
Before moving to the shopping list, we have to know in fact people are also asking that; coronavirus transmit through food?
Apparently there is no evidence of corona transmit through food. But it's recommended to cook food at high temperature especially while cooking meat. Cooking at high temperatures kills bacterias so incorporate high temperatures in your cooking.
Food hygiene is equally important so be extra cautious about it. Don't forget to sanitize your hands while working...
Avoid unpacked food items and cooked dishes as you don't know who made it. Coughing, sneezing, and flu can make the food more inappropriate for eating.
CoronaVirus Food List
What To Buy To Stock Up
Before going into the details of coronavirus food list, the best recommendation is to wisely choose your food as per your budget and requirements. Don't be greedy and invest in those food items that are not useful for you. Make a list of items of your own like what you like to have? what food items are best for you? what are economical to have?
According to the news, people are getting upset about this situation and want to take everything from the supermarket. Don't get panic as the time will pass. Just stock up for 2 to 3 weeks or 1 month. Not only think about yourself but also help others who are not able to get their food.
and don't forget to opt for coronavirus food safety tips.
Properly wash your food before making
Use hand sanitizer
Properly dispose of used wipes
Keep your kitchen and utensils clean.
If you have any plastic utensils then sterilize with hot water.
Stock Up Nonperishable
It's a great idea to list nonperishable food items on your grocery list. It will help to stay longer...
So what can be taken?
Canned Food
Personally, I am not a big fan of canned items but here it can help you as it will stay longer.
Here you can use canned:
Mushrooms - full of vitamin C! can help you to prepare saute mushrooms or tortilla wraps or might be topped on your pizza to make it more delicious and tasty.
Chickpeas - a great option to keep you healthy with protein. Make chickpea salad or curry.
Corns - Yes, masala corn salad is super delicious to have. You can also make corn salad with lemon sauce dressing.
Beans - I love beans and the best option to prepare your quick lunch or dinner.
Veggies - canned vegetables like carrot and peas can help you make fried rice or simple peas pulao.
Tuna / Salmons - Make your sandwiches and wraps with grilled tuna or salmon.
Fruit cocktails - You can make a fruit salad with cream or yogurt.
or whatever you like but look for the options that are best for you. Avoid extra calories and carbs to keep yourself fit and healthy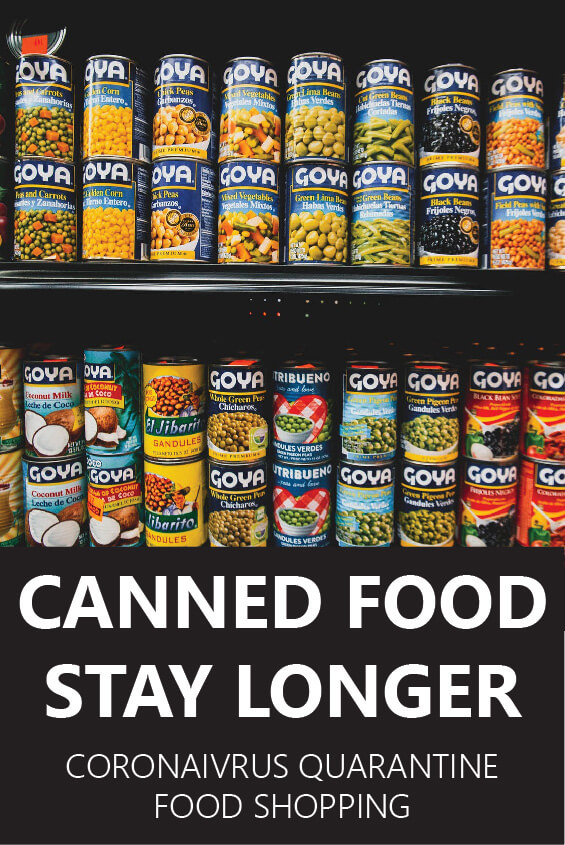 Invest in nonperishable food items it will stay longer
and you can make your delicious food anytime!
Dry Foods
Another option is dry food items like
Nuts - almonds, pistachios, raisins, walnuts are full of vitamins so you can keep with you to stay healthy at this time. A handful of nuts are enough for an adult to consume daily.
Snacking items (chips/popcorns) - Yes, best for you! take this time as an opportunity to grow. Use your snacks and think to rise in the future.
Whole grains/lentils - yes, its recommended as it gives you more protein. Make soup, daal, and apply your own recipes to prepare your meals.
Rice / Flour / Pasta - Stock up your kitchen pantry with rice, flour, and pasta as it's a good source of carbohydrates. You can prepare meals using the best option according to your regional taste.
Sauces - Make some sauces with you to create more taste in your meals. Tomato, mint and cheese sauce can really make a difference in your sandwich and pizza toppings. Kids will love the ketchup with fries.
Dates - the best option to have!
Frozen food Items
Frozen food items can really help you out to save your food.
You can store:
Meat - wisely place different types of meat in your refrigerator. It will help you to prepare meals for lunch and dinner.
Boiled food - As I mentioned earlier, boiled chickpeas can really help you in this time. You can also stock up boiled potatoes, lentils, beans and other food items that you like. I personally filled my refrigerator with chickpea packets as it really helps me to make a variety of food recipes.
Smoked food - just an option like you can freeze your barbeque, sausages, pepperoni and other food items.
Kebabs - I love to make kebabs of different types and refrigerate it. It stays longer and helps to prepare quick meals and brunch food.
Parathas / Tortillas / Roti - Freeze your wraps as per your choice.
Snacks of your choice like nuggets, fries, samosa, cutlet, and others.
Store Drinks & Beverages
Yes, it can help you out to stay hydrated but avoid sugar and other nonhealthy options in your drinks and beverages. Try to make milkshakes and smoothies as per your availability.
Water
Lemonade and,
Natural juices
Pantry Food Check List
Flour (Make bread, tortillas, pizza, naan)
Noodle / Pasta
Eggs
Teabags
Coffee
Potatoes
Onion
Garlic / Ginger
Oil / Butter
Noodle / Pasta
Eggs
Teabags
Herbs & Spices
Coffee
Potatoes
Onion
Garlic / Ginger
Oil / Butter
Cheese
Sugar (for bakery food lovers)
Packet milk / Powdered milk
Yogurt
Cereals / whole grains
Rice
Carrot / Capsicum / Tomatoes / Cabbage
Banana / Apple /
Stock Up essential and recommended food items so you can prepare quick food!
Make Delicious Recipes with Coronavirus Food List
RECIPE IDEAS TO PREPARE QUICK MEAL
Hand Washing is the Key! So don't Forget to SANITIZE
Keep Essential Medicine in Stock
It's essential to stock up with medicines as well. Check your medical kit and fill it up with necessary medicines like pain killer as the situation might give you mild headache!
In case of any corona symptoms then immediately contact a doctor.
What You Can Do More...
Stay connected and get social: Social distancing is allowed at this time but you can connect with your community through phone, video, social media. Let me say this, internet is the lifeblood at this time that will keep us connected without giving the feel of isolation.
Properly Exercise: Don't be lazy! Give time to yourself.. Make time to properly exercise
Meditate: Yes, its the best time to connect with your soul through meditation. It will give you great energy to flourish.