Pakistani desserts - Yes, you can't skip them! I promise once you have it, you will have it again and again. In fact, Pakistani cuisine seems incomplete without kheer, rasmalai, shahi tukray, and sheer khurma. All these desserts are filled with a richness of creamy and sweet flavors that makes them distinguished from other desserts.
In Pakistani desserts, you will get a variety of options to try. Every occasion and festival marked a special dessert that reminds the uniqueness of that day. Like, when it comes to Eid then Sheer khurma comes to mind. To share the good news, gulab jamun and peda comes up. A family get-together is incomplete without kheer or shahi tukda. Halwa is associated with religious events or in the same there is a long list that takes us to the sweetness of food in form of desserts.
Jump to:
In this post, I am going to introduce some mouthwatering Pakistani dessert recipes that will help you to make at home step by step. Recipes are with videos so it will be easy for you guys to follow the quick steps.
Pakistan Desserts For Your Next Dawat
Here I round up the most popular Pakistani dessert recipes that people love to have on dawat, parties, family get together, weddings and festivals.
1) Phirni
Phirni is another version of kheer that looks thicker and creamier than kheer. Here I prepared Pakistani style phirni with soaked and finely ground rice and milk. Topped with pistachios and saffron makes it super delicious and tempting. A chilled bowl of creamy phirni in mitti ki thali can transform your mood and rejuvenate your soul.
Phirni Recipe (Firni)
Phirni recipe or a chilled bowl of Firni will surely make your day! It's a popular Pakistani, Indian sweet dish or pudding prepared with soaked and ground basmati rice, milk, sugar, saffron (zafran), seasoned strongly with green cardamom, and rose water (Arq e gulab). Here I am preparing a traditional eid special zafrani phirni with a perfect creamy and smooth texture topped with pistachios and saffron. Here is step by step phirni recipe with video to make at home.
Check out this recipe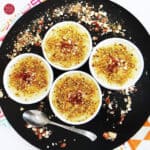 2) Sheer Khurma
Most popular Eid Special 'Sweet Dish' of Pakistan
In Pakistan desserts, Sheer khurma has a special placement as it's a signature dessert of Eid. It's a combination of vermicelli (sevai), milk, and nuts. Extremely healthy and nutritious sweet recipe. If you are craving tasty and yummy sheer khurma then try this recipe for your family and friends. Eid brings festivity not only with religious obligation but also connects people with love and affection. Sheer khurma is the symbolic eid dessert that every Muslim house serve to their guest.
Here I am sharing a simple, easy, and quick sheer khurma recipe that you can easily prepare in your home kitchen.
Sheer Khurma Recipe
Traditional eid special sheer khurma recipe made with seviyan (vermicelli). Famous eid dessert recipe. Looking how to make sheer khurma (watch video)!
Check out this recipe
3) Sweet Toast (Meethay Toast)
It's a form of toast that every country makes but in a different style. Here in Pakistan, we make it by adding the delicacy of our sweet flavors to make it tasty. A small bite of sweet toast will melt in your mouth with the creamy sweetness of toasted bread. You can compare this with shahi tukra but it's not the shahi tukra. It has its own flavor that needs to be experienced. An easy recipe that you can quickly prepare with dinner or good to have for breakfast with coffee. Kids love this type of toast as it's soft and juicy and fully dunked in a milky flavor.
It's not wrong if I say, it's a hybrid version of shahi tukra, meetha toast, and double ka meetha. Let's make it and see how it turned out...
Sweet Toast Recipe (Milk Toast)
Family friendly sweet toast recipe can be prepared within 5 minutes. If you like to have milk toast in breakfast then this recipe is perfect! Toasted bread slices dunked in creamy milk with some additional flavor makes no excuses to finish it.
Check out this recipe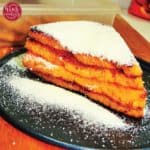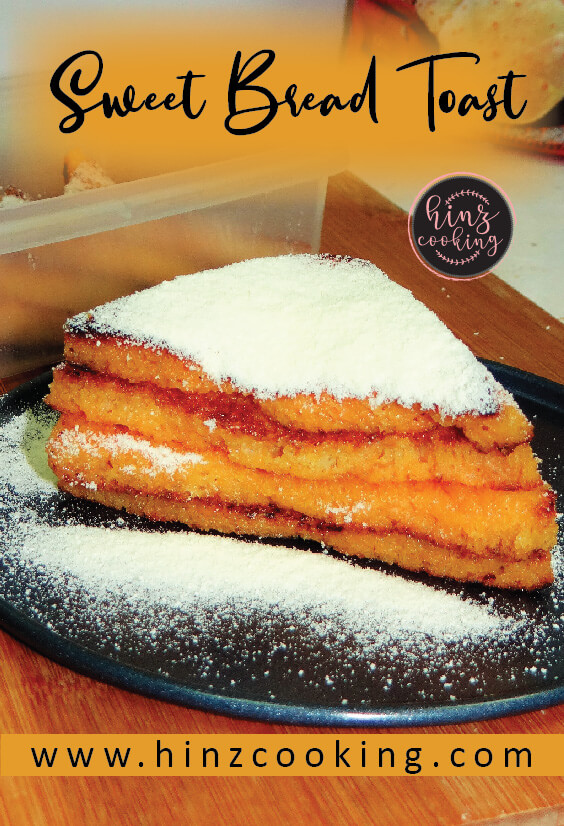 4) Meethi Seviyan
If you are in love with vermicelli then this meethi seviyan will make your day. It's one of the best sweet on Pakistani desserts list. Most people call it sookhi seviyan or dry seviyan and some recognize with sevai ka zarda.
In this recipe, roasted vermicelli are mixed with water/milk and sugar syrup along with the aroma of green cardamom. The addition of roasted dry fruits and burfi makes it super scrumptious and tempting to eat.
Meethi Seviyan (Sweet Vermicelli Recipe)
Meethi seviyan or sweet vermicelli is the traditional delicacy of Pakistani and Indian sweet recipes. It's a form of dry sevai prepared without milk. If you are looking for quick and easy options to make sweet dishes for your dinner party, or party then it's the best idea to serve.
Check out this recipe
5) Rasmalai
(Karachi Special Rasmalai Recipe with Milk Powder)
The most adorable Pakistani dessert is 'Rasmalai' which people love to serve as chilled dessert in dawat, family get-togethers, or parties. If you are looking at how to make soft rasmalai at home then try this recipe or watch step by step recipe video to follow the quick steps. People from Pakistan, India, and Bangladesh love to prepare rasmalai but need an authentic recipe to make halwai style at home.
It's a simple and easy rasmalai recipe that anyone can follow even if you are a beginner. It will be soft, chewy, moist, and perfect rasmalai that you can try at home.
Rasmalai Recipe (With Milk Powder) | Video
Here is a soft Rasmalai recipe with milk powder that anybody can make with perfection. Quick and easy Indian dessert that you can prepare within 20 minutes. Creamy and milky Rasmalai balls cooked with thickened cardamom milk make a perfect flavor for party events.
Check out this recipe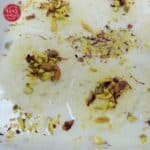 6) Gajar ka Halwa (Carrot Halwa)
Gajar ka Halwa, the winter dessert of Pakistan. You will not find any confectionery place without the presence of soul-warming gajar halwa. It can be served hot and cold but the majority of people like to have warm gajar halwa with the topping of dry fruits and khoya. It's a perfect sweet recipe prepared with crushed carrots and then cooked in milk and sugar. Extremely delicious and the perfect way to have carrots during the winter season. To be very honest, I am the one who loves winter just because of gajar halwa to eat in a cozy room with family.
Gajar Ka Halwa Recipe (Carrot Halwa)
Rich, creamy, and authentic gajar ka halwa recipe popular as carrot halwa is the most comforting and satisfying winter dessert from India and Pakistan. Prepared with 5 ingredients and best to make with khoya and milk.
Check out this recipe
7) Nankhatai
Nankhatai
NanKhatai Recipe (Indian/Pakistani Cookies)
Making crispy Nankhatai Recipe with 4 ingredients. Famous Indian and Pakistani cookies for teatime. If you are looking how to bake cookies without oven then try this desi-style nan khatai on the stovetop.
Check out this recipe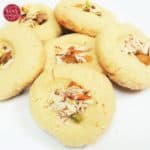 8) Suji Ka Halwa (Katli)
In Pakistan, people love to make a variety of halwa but suji ka halwa is the best. You can find it with halwa puri or at home on special occasions. Here I am sharing suji halwa with katli that you can keep on your kitchen counter for 2 weeks. It's a dry halwa that you can also pack in your kid's lunch box.
Semolina is locally called suji/sooji, and people use it to make different styles of recipes. Suji halwa is quite common, prepared with roasted suji, milk, and ghee with the topping of dry fruits.
Pakistani Suji Ka Tukri Halwa
Making Pakistani Suji ka Tukri halwa which is a dry form of halwa prepared without milk. Simply a 5-minute recipe cooked with roasted semolina, ghee, and sugar. The addition of desiccated coconut and pistachios makes a perfect KATLI bite.
Check out this recipe
9) Caramel Custard Pudding
Custard trifle or custard pudding is a famous dessert recipe in Pakistan. If you are curious to make something delicious with custard then try this recipe. Also recommended for people seeking how to make caramel custard without egg and oven.
Caramel Custard Pudding Recipe without Custard Powder
Caramel custard pudding is the easiest dessert recipe that you can make with custard powder without an oven. It's eggless and prepared within 15 minutes (No gelatin, No agar agar). A chilled bite of caramelized custard pudding will give you the best time to enjoy this tempting dessert.
Check out this recipe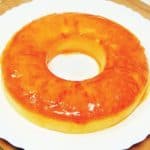 10) Doodh Ka Sharbat
It's a special sharbat that you get from halwai shop in different locations of Pakistan. In old Karachi, burns road was famous to have doodh ki bottle. It's a rabri style sharbat. Here I made it easy to make milk sharbat in a blender that you can quickly make at home. Extremely delicious to have. If your kids are picky about milk then give them and they will have it happily and even will ask for more.
Rooh Afza Milkshake Recipe (Doodh Ka Sharbat)
Rooh Afza milk sharbat is the oldest and most traditional milkshake famous as 'doodh ka sharbat'. It's a refreshing summer drink to quench the thirst with flavor of rose. In Pakistan and India, people love to make it on special occasions like Ramadan, Eid, and festivals.
Check out this recipe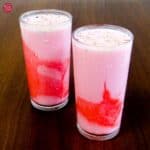 11) Meethi Tikiyan
Here is the famous meethi tikiyan that you can make ahead of time or few days before if you are planning for family get together. Quick and easy recipe to make at home.
Meethi Tikiyan Recipe
Meethi Tikiyan Recipe - Meeth Tikia in Urdu - میٹھی ٹکیاں - Popular Pakistani cookies with sweet, crispy, and crunchy flavor. Perfect recipe to serve with tea time or in kids lunch box. Mostly people used to make this recipe in Islamic month of Rajab.
Check out this recipe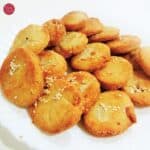 Share this recipe with your family and friends. It would be great if you leave your feedback in the comment box. If you make this recipe at home then share a picture with the hashtag #hinzcooking
You Might Like This