Pakistani food is one of the best food in the world and people loves to eat and make Pakistani food throughout the world. Due to a rich culture and royal inheritance, the food has some significant style that makes it unique and distinguished. Today I am sharing 25 best Pakistani food recipes in Urdu (Video tutorial) that you can easily try in your kitchen with convenience.
Most of the people think that Pakistani and Indian food is similar in taste but if you have tried then there is a lot of difference in taste. Style of making and spices are much similar but the end result is different. There is some cultural taste based on every region like people of Sindh makes Sindhi food in regional style and in the same way the Punjabi food has the different class in terms of eating and presenting food. Balochistan and KPK dishes are mouthwatering and scrumptious.
If you are looking to find something exclusive in Pakistani food then try these dishes and I am sure you will love it. For the convenience, I am sharing step by step cooking video that you can easily follow.
Pakistani spices are available worldwide so if you live outside Pakistan then it would not be difficult to take from nearby stores. If you are uncertain to find then check some Indian spices and close to that you can also find Pakistani. Most of the spices are similar so it's easy to find from worldwide locations/stores.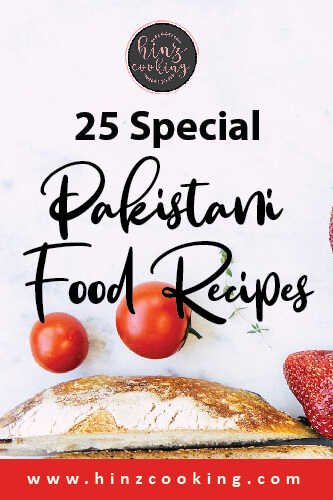 1) Chicken Biryani Recipes
Chicken Biryani is the all-time favorite dish of people belong to Pakistan, India, and Bangladesh. It can be made with chicken and mutton/beef. Here you can find some Biryani recipes along with Chicken biryani.
2) Paratha Recipes
Paratha and Roti is one of the best and mandatory food recipes that people serve with curries and kababs. Here you can find a different type of paratha recipes:
3) Tawa Naan Without Tandoor Recipe
If you love tandoori roti and have no option to get it then don't worry as you can make it at home on your gas stove. In this cooking video tutorial, I shared simple and easy tawa naan recipe that you love to make in your kitchen. Try this and make tandoori naan on tawa.
3) Traditional Style Chicken Korma Recipe
If you have a craving to have deg style chicken korma that normally cooks in Pakistani weddings and special events. So check out our authentic chicken korma recipe video. It's simple and easy to cook in minimum time with minimal spices. Here is the complete recipe that you can follow:
Authentic Chicken Korma Recipe
4) Dhaba Style Chana Daal Recipe
In street recipes, chana daal is one of the best Pakistani food dish that people love to eat with tandoori roti. I make this dhaba style chana dal fry for you to follow the recipe. Simple and easy to cook in your kitchen.
5) Egg Masala Recipe - Curry Style
People around the world love to make food using eggs and Pakistani egg masala recipe is awesome in taste. It's a perfect dish for your dinner or lunch. You can make it in the different style but the curry style egg masala taste is unique and mouthwatering.
Here is the video recipe tutorial of egg masala recipe:
Egg curry Recipe with Masala/Gravy
6) Mutton Kofta Recipe
Koftay ka salan is the most famous Pakistani food recipe and people use to make it in their festive time. It simply a meatballs of chicken and mutton dipped in local style curry. It's a great recipe to make in dinner and lunch.
Here I shared mutton kofta recipe for my lovely audience to try this in their kitchen.
7) Chicken Pasta Pakistani Style
If you want to make a fusion of Italian food with some local Pakistani spices then try this chicken pasta in white sauce recipe. I made this little spicy using Pakistani ingredients. Here you can check the complete recipe:
8) Aloo Kachori Recipe - Street Style
Kachori is the one of best fried Pakistani food recipe. It's a street food recipe made with potatoes (aloo), keema and mixed vegetables. It seems difficult to make but believe me when try it's simple and easy that you can make even you are a beginner.
Here is Aloo Kachori Recipe
9) Kashmiri Chai Recipe
Kashmiri chai also famous by the name of Pink tea or gulabi chai. It's a Kashmiri green tea that makes it in a way to turn to pink. One of the best tea recipe to have it in winters. It's unique in taste and tempting due to special color.
10) Shami Kabab Recipe
Shami Kabab is the most adorable Pakistani food recipe that people loves to store in a fridge. Normally it's been made using chicken and red meat. It's the best kebab recipe in kabab fraternity.
Here you can check out simple Shami kabab recipe to prepare at home.
11) Anday Aloo Sabzi / Bhujia
Anday aloo sabzi is the best combination to make. Ideal recipe to serve in lunch and breakfast with Paratha.
Here you can find the complete recipe video to make anday aloo in dry form.
12) Chole Masala Recipe - Punjabi Style
Chole Masala can be made in a different style but the Punjabi chole or the Pindi chole recipe is awesome. I recently made this chole masala in my kitchen to share with you all.
13) Aloo Pyaz Pakoda Recipe
Another recipe that people love to eat any time of the day. Even though it's a snack recipe and most famous as street food dish. Not only Pakistani but people in South Asia love to eat Aloo Pyaz Pakora.
Here is the recipe video to make in your kitchen:
14) Aloo Gobi Recipe
Another scrumptious sabzi recipe is aloo gobi that I tried in my kitchen in restaurant style. If you don't like gobi (cauliflower) then try to eat this recipe in Pakistani restaurant style and you will love it. Little spicy in taste but gives you a different flavor of gobi that will make your day.
15) Chicken Karahi Pakistani
Karahi can be cooked in a different style but the class of traditional dhaba style chicken karahi is unique and awesome. It's a scrumptious and mouthwatering karahi recipe that you can try in your kitchen.
Chicken Karahi Recipe - Pakistani
16) Vegetable Pulao - Sabzi Pulao Recipe
Vegetable pulao is the best recipe of lunch that people eat with Mint Raita. It prepared by combining different vegetables. Here you can find the aromatic recipe of sabzi Pulao.
17) Malai Kulfi Recipe
Another scrumptious and tempting Pakistani food recipe of Malai Kulfi is essential to share. It's the best street food that people love to eat. It's a milky ice cream bars famous due to its unique flavor.
18) Jalebi Recipe
Street food of Pakistan and India will not be complete without Jalebi. It's a mouthwatering sweet recipe that people love to eat. It's easy to prepare at home as well. Check out our Jalebi recipe to prepare at home.
19) Punjabi Kadhi Pakora Recipe
Kadhi is the traditional Pakora curry normally served with rice and roti. It has thick yellowish gravy with besan fritters called pakora. People in subcontinent loves Kadhi to have in lunch. Punjabi kadhi is famous due to its special tadka and mouthwatering flavor.
20) Tahari Recipe
Tahari is also one of the best Pakistani food recipe that people in Pakistan and India love to serve in lunch. It's a rice recipe made with potato curry. You may have a look in tahari recipe video.
21) Rice Kheer Recipe
Rice kheer or 'chawal ki kheer' is the traditional sweet dish. It's been served on special occasions like wedding and family function.
22) Sheer Khurma Recipe - Eid Special
It's an Eid special food dish by the name of 'Sheer Khurma'. Made by adding milk and vermicelli along with dry fruit. It's a special dish and in Muslim fraternity represent the Eid food.
23) Shahi Tukray Recipe
Shahi Tukray or shahi toast is the best recipe made with bread. People make it by fry bread and dipped in a sweet yellowish milk. You can find shahi tukray recipe here.
24) Anda Paratha Recipe for Breakfast
People living in subcontinent Pakistan, India and Bangladesh loves to eat 'Anda Paratha' in breakfast. It's a desi nashta for local people. Basically, Anda paratha makes by adopting different cooking methods. Here I am sharing one of the best 'Egg paratha recipe' that easy to cook and eat and I am sure you will love it.
25) Chana Chaat Recipe with Papdi
Another mouthwatering Pakistani street food recipe is chana chaat with papdi. It's a spicy chaat made with chickpeas and potato and served with the topping of Papdi.